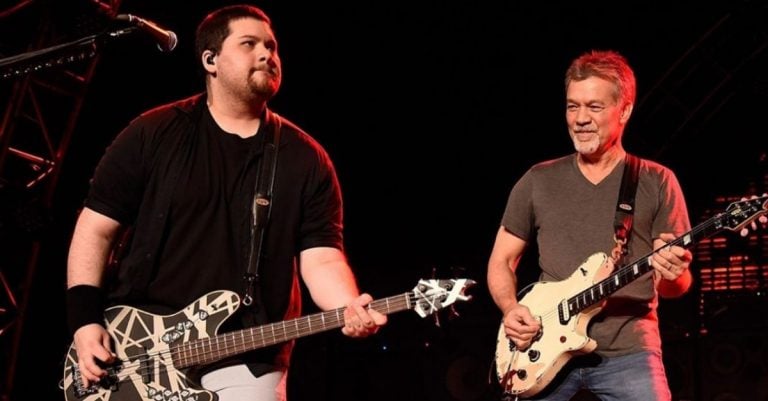 Wolfgang Van Halen, the son of the late Eddie Van Halen, has slammed band rumors circulating about him allegedly replacing his late father as the lead guitarist of Van Halen. These claims were first made on a Wolfgang Van Halen fan page, and made their way over to Twitter. Not only did it mention Wolfgang taking over as lead guitarist, but that the lineup would include former vocalist Sammy Hagar, former bass guitarist Michael Anthony, and Eddie's brother Alex Van Halen on percussion.
"It has been mentioned that Eddie Van Halen told his son and brother, I give you my blessing…..," the fan page says at the time. Wolfgang dismissed the rumors on social media and urged fans to "please stop" making up false rumors with no truth behind them.
Wolfgang Van Halen has had it with false band rumors
This is just a shitty lie attempting to capitalize on these awful times. Please stop with this.

Anyone peddling this shit is not only hurting the fans, but hurting me and my family. https://t.co/YqJKBaqpjy

— Wolf Van Halen (@WolfVanHalen) October 25, 2020
"This is just a s—ty lie attempting to capitalize on these awful times," he writes. "Please stop with this. Anyone peddling this s— is not only hurting the fans, but hurting me and my family."
RELATED: Eddie Van Halen's Son Wolfgang Shares Never-Before-Seen Family Photos
Wolfgang confirmed the death of his father on October 6th, when the rest of the world learned the tragic news as well. "I can't believe I'm having to write this, but my father, Edward Lodewijk Van Halen, has lost his long and arduous battle with cancer this morning," he writes at the time. "He was the best father I could ask for. Every moment I've shared with him on and off stage was a gift."
"My heart is broken and
I don't think I'll ever recover from this loss
," he adds. "I love you so much, Pop." Former Van Halen members, including Hagar, offered up words of sympathy following the news. "Heartbroken and speechless. My love to the family," he says alongside an old photo of himself with Eddie. Most recently, the band was made up of Eddie, Alex, Wolf, and vocalist David Lee Roth.