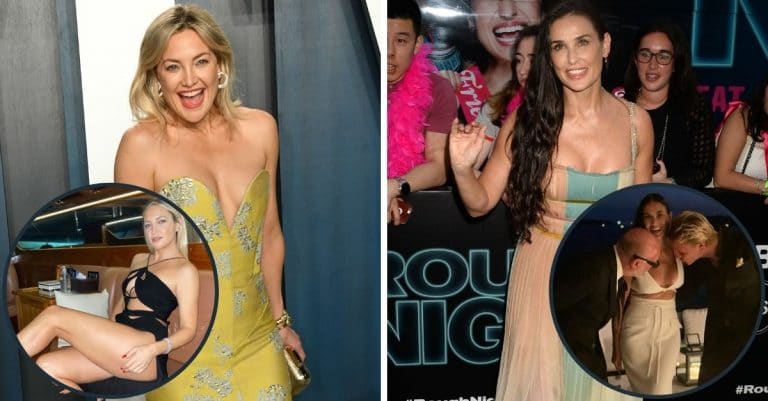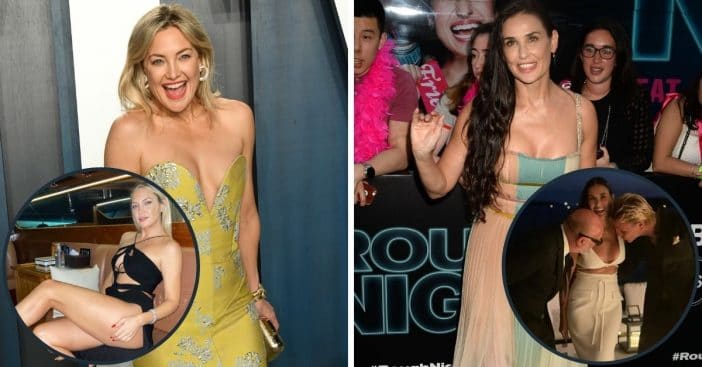 Demi Moore and Kate Hudson recently posed for a photo together at the Venice Film Festival sporting gorgeous, cut-out gowns. At the Celebration of Women in Cinema Gala hosted by the Red Sea Film Festival on Saturday, September 4th, Moore stunned in a white cut-out gown by Mônot with a plunging neckline and exposed midriff. Hudson wore a similar Mônot cut-out gown as well, with hers in black.
Hudson shared a photo from the evening's event on Instagram, including a caption, "Before you leave the house, look in the mirror and take one thing off." -Coco Chanel I chose fabric…."
Kate and Demi look fantastic in their nearly matching cut-out gowns
View this post on Instagram
Moore shared a photo on Instagram as well, which was more of a silly photo in comparison to Hudson's sultry and sexy picture. Moore is posing with perfumer Eric Buterbaugh and actor Patrick Hilgart in the photo, and both men are blowing kisses towards her chest. "Out with the Girls at the Women in Film event with @redseafilm last night 😜," she captioned the photo.
RELATED: Demi Moore Shows Off Red Swimsuit Nostalgic Of 'Baywatch'
View this post on Instagram
Fans loved and praised both Moore and Hudson for looking so gorgeous in their gowns. Moore has been having a lot of quality mother-daughter time with her daughters recently. Back on the 4th of July, Moore posted a photo of her vacation in Santorini in Greece with her daughter Rumer Willis. Most recently, she posted a snap from a photoshoot campaign that included all three of her daughters, Rumer, Scout, and Tallulah, for Labor Day Weekend.
View this post on Instagram
RELATED: Kate Hudson Shares New, Unique Look In Instagram Video For Upcoming Film