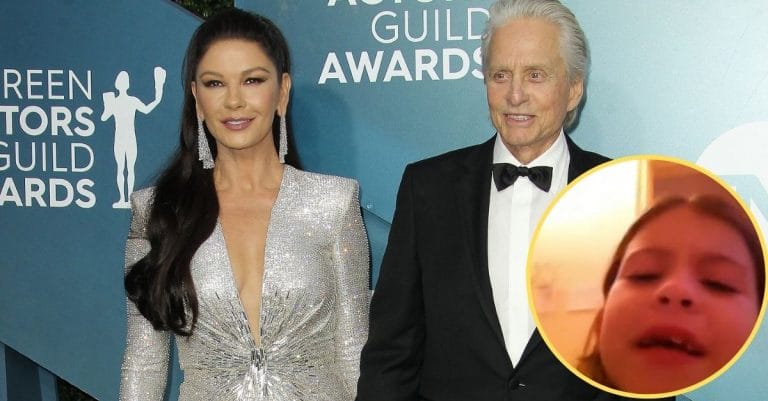 Catherine Zeta-Jones recently shared an adorable throwback video of her daughter Carys as she is packing up for college. In the throwback footage, Carys is talking about arctic animals. "Hi, it's Carys. I just took pictures of arctic babies. I didn't take pictures of all of them, because some of them aren't that cute. This is a very, very cute one. This is a tiger. That was very, very cute," she says, then turns and shows a picture of a tiger cub.
She then showed off some other baby animals she had photos of. "I also did this fox. Could you see it? I hope you can," she says. "It can take the cold more than almost any other animal. I also did a polar bear, but I did two pictures because there's two polar bears, and it's sort of hard to put them in one picture. So, first I did the smallest polar bear, and then mom."
Catherine Zeta-Jones is a proud mom reminiscing on old times as her daughter gets ready for college
View this post on Instagram
Of course, proud mama Catherine couldn't help but say such nice things about her daughter. "My daughter Carys prepares for college!!!" she captions her video. "Very cute alert!!The road to higher education begins on the bathroom floor, with limited teeth, (thus the lisp) and a passion for books. Carys is packing her bags and I am looking at old videos😢don't tell her I posted this😂😂."
RELATED: Catherine Zeta-Jones Shares Rare Family Video From Inside Vacation Home
Catherine isn't a stranger to sharing parts of her life on social media. Just last April, she celebrated her daughter's 18th birthday with another sweet throwback. "Happy 18th Birthday Carys Zeta! You are everything, and everything is you," mom says at the time. "Thank you for the joy you bring me. At 5 am this morning, you texted me to thank me, for giving birth to you. That's the kind of woman you are. Kind."
She continues in her caption, "Your wisdom out numbers your years. Your beauty is deep and your heart is big enough to love and envelop the world, your sense of humor……very important…. is insurmountable. I could go on."
What will her children grow up to do in life?
View this post on Instagram
In an
interview
with
TODAY
, the proud mom revealed that her children may be pursuing acting in the future,
just like their famous parents
. "The journey I've had as an actor has been extraordinary. So I can only encourage them to do what they love."
She continues, "They're both extremely bright and they're both studying history and politics. And they get all their brains from me," she jokingly adds. However, she and husband Michael Douglas would rather their kids try and pursue something else if it were up to them. "Michael and I would be the first parents to say, 'You know, maybe you should think of another career,' but we've seen how passionate they are about the craft. They know what celebritydom is. They know the good, the bad, warts and all of that."