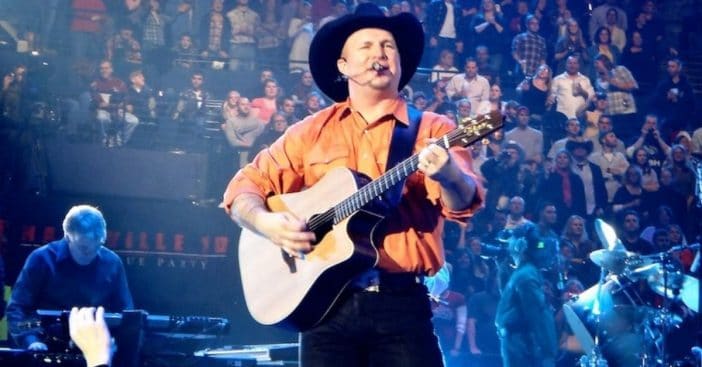 The front row of a concert is where it all happens: heart-pumping music straight from the speaker to the eardrum, a chance to shake hands with the artist, and a clear view of what's going on. However, Garth Brooks, husband to Trisha Yearwood, has a strict rule to never sell front row tickets to his concerts. Why?
During the #AskGarth segment of his Inside Studio G Facebook show, Brooks explained the reasoning behind this code of his. Additionally, this policy extends to the entire first two rows of any of his concerts and says a lot about his character.
Garth Brooks won't sell front row tickets to his concerts
One glimpse at the quest for prime seating tickets at a big venue reveals what a hassle it can be. That's exactly what Brooks tries to avoid for his fans by prohibiting the sale of tickets for the first two rows of seats at his concerts. Specifically, he has admitted he "is tired of dealing with ticket scalpers and [disinterested] spectators not really into the music and looking around to see who's seeing them being there at the show."
RELATED: Garth Brooks Shares The Reason He Always Bows To Wife Trisha Yearwood On Stage
So, he instead gives the spots away to fans who purchased spots on the upper decks. Brooks specifically has his crew go up to the highest and farthest seats to find worthy viewers. In his view, those who simply wanted to be here no matter the spot likely have truer zeal than the people with scalped spots.
A fond strategy among others
View this post on Instagram
Brooks isn't the only fan of this approach. In fact, when he grew tired of scalpers stealing seats from eager fans for the sake of their own wallets, he turned to other frequently-touring artists to figure out how to address this.
Those artists include Bruce Springsteen, U2, and Metallica. Together, they collaborated and concocted this way to still allow fans a great experience. Additionally, Billy Joel practices an identical policy, bringing people from the back to the front so that spot gets filled not with scalpers but with people "that are really happy to be there, real fans." This earned high praise from Joel's daughter Alexa Ray – and likely more than a few fans!