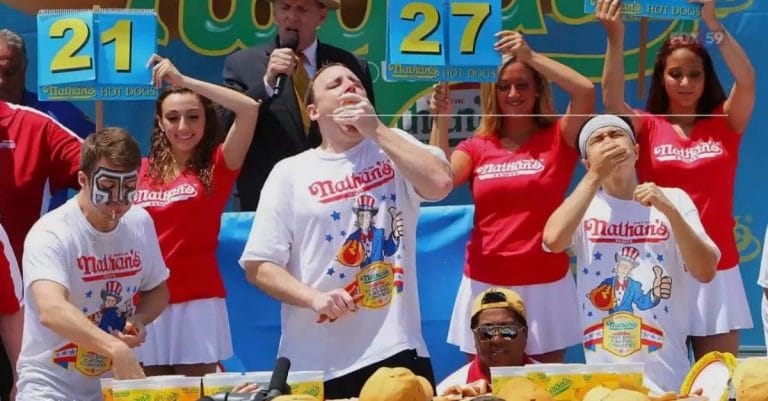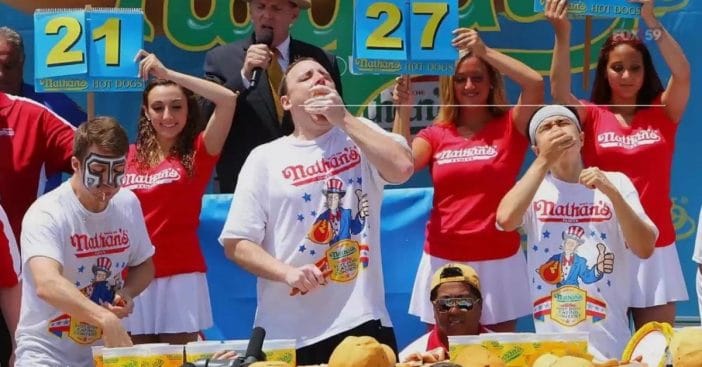 More than a few norms ended up disrupted in the wake of the coronavirus pandemic for over a dozen months, impacting just about every major event of the year. However, Nathan's Famous Hot Dog-Eating Contest shall indeed go on this Independence Day 2021.
The event shall start airing shortly before noon on the ESPN station, beginning with the women's championship before then airing the men's. ESPN has televised the event for 18 years in a row, now that 2021 is still on. The event itself dates all the way back to 1916.
How, when, and where will Nathan's Famous Hot Dog-Eating Contest unfold in 2021?
3. More. Days. pic.twitter.com/TL1mBzbEbd

— Nathan's Famous (@originalnathans) July 1, 2021
Just as the Macy's Parade kicks off Thanksgiving, Nathan's Hot Dog-Eating contest became an integral part of Independence Day and shall remain as such in 2021, a year after the coronavirus pandemic disrupted many traditions. It shall take place on Sunday, July 4 at Coney Island's Maimonides Park. Coney Island has played host to the event for decades.
RELATED: A Popular Brand Is Bringing Back Arthur Treacher's
It is brought to eaters by Nathan's Famous Corporation's Brooklyn restaurant location, which also happens to be the fast food chain's flagship location, at the corner of Surf and Stillwell Avenues.
The lore for this contest is as deep as some people's appetite
Personally I think this can go on the cover of @voguemagazine.

Hot dog eating contest hats are available on Shopify!

Purchase: https://t.co/rVFe56nrsc pic.twitter.com/JEPPq9TA2X

— Nathan's Famous (@originalnathans) June 28, 2021
Some followers might be familiar with the rivalry between Joey "Jaws" Chestnut and Takeru "Tsunami" Kobayashi who battled back and forth for a place at the top, setting new records as fast as the other made them – within minutes, because that's all that's allotted at 2021's Nathan's Hot Dog-Eating Contest.
On the day of, look for George Shea as master of ceremonies on stage as the event unfolds. All the while, ESPN commentator Mike Golic Jr. shall offer a blow-by-blow account of the appetizing conquest. He'll be joined by Richard Shea of the Major League Eating and seven-time women's champion Miki Sudo. Nathan's Famous Hot Dog-Eating Contest kicks off in 2021 per tradition with the women's championship at 11:30 ET on ESPN3, then at noon for the men's championship on ESPN. Almost time to dig in!