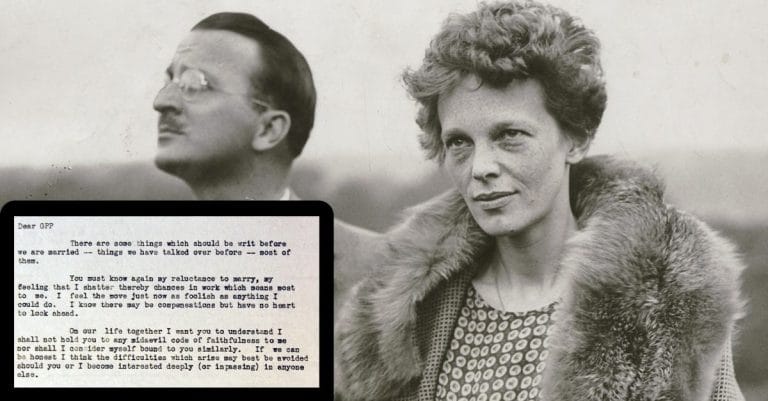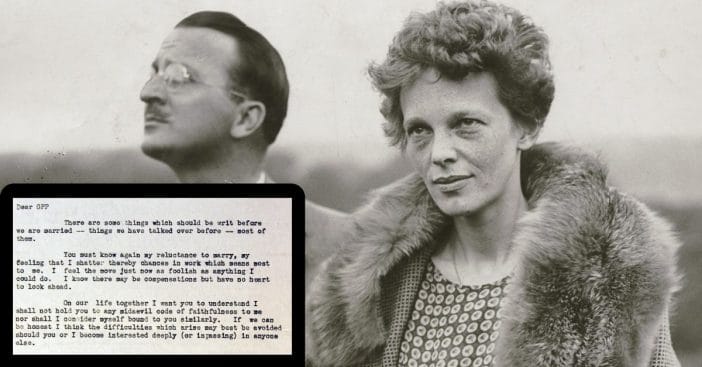 It turns out that a 1931 letter from Amelia Earhart to her husband, George P. Putnam, may suggest that the pair had an open relationship/marriage. NBC's resident presidential historian Michael Beschloss shared a photo of the letter on Twitter, which gained some traction.
"Amelia Earhart's letter to George Putnam, setting out terms for marriage, 1931," the photo's caption states. Readers seem to be surprised with Earhart's matter-of-fact attitude and the fact that she seemed to be pretty open in that they were not "bound" to one another, her words.
Did Amelia Earhart and her husband have an open relationship?
Amelia Earhart's letter to George Putnam, setting out terms for marriage, 1931: pic.twitter.com/pe8mFrlSxC

— Michael Beschloss (@BeschlossDC) June 22, 2021
"There are some things which should be writ before we are married — things we have talked over before — most of them," the letter begins. "You must know again my reluctance to marry, my feelings that I shatter thereby chances in work which means most to me. I feel the move just now as foolish as anything I could do. I know there may be compensations but have no heart to look ahead."
RELATED: Man Who Discovered The Titanic Wreckage Confident In Search Of Amelia Earhart's Plane, Thanks to An Old Photo
"On our life together I want you to understand I shall not hold you to any midaevil code of faithfulness to me nor shall I consider myself bound to you similarly. If we can be honest I think the difficulties which arise may be best avoided should you or I become interested deeply (or in passing) in anyone else."
Twitter users debate over what this letter means
"Please let us not interfere with the others' work or play, not let the world see our private joys or disagreements. In this connection I may have to keep some place where I can go to be myself, now and then, for I cannot guarantee to endure at all times the confinements of even an attractive cage. I must exact a cruel promise and that is if you will let me go in a year if we find no happiness together. I will try to do my best in every way and give you that part of me you know and seem to want."
While Earhart showed a reluctance to marry for sure, she did end up marrying Putnam. They even made it past the one-year mark and stayed together until she went missing in 1937. However, the wording of the letter has fans debating online about Earhart's true feelings towards Putnam. "That's a letter from a woman who was not in love and is doing her best to make him call it off. You can feel her regret that she agreed to this union. How sad," one Twitter user writes.
Another says, "She was looking for strong equal footing. Not the traditional BS on what marriage meant for women in those days, and apparently the same to some people in this day and time."
What do you think about this incredibly rare letter?