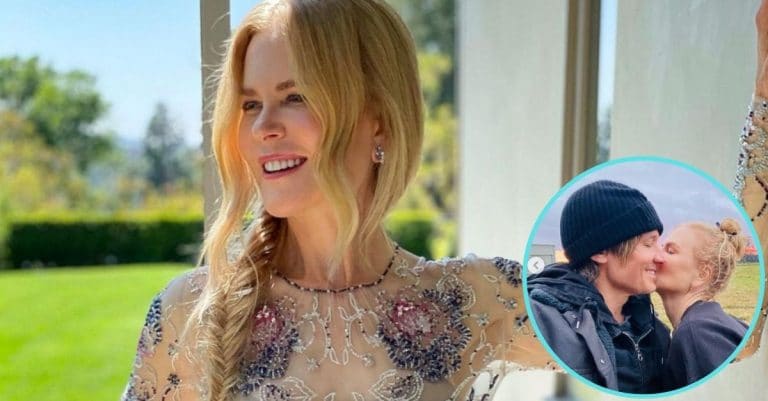 Nicole Kidman recently showed off her natural hair in a new celebratory photo with her husband Keith Urban. She was celebrating Father's Day in addition to her own birthday! She posted a never-before-seen photo of herself and Urban embracing one another outside in a field. "Happy Father's Day to all the fathers and father figures out there. My love to these two fathers in particular," she writes in the caption.
The other photo in question included an old photo of herself with her dad. Kidman typically likes to sport different hairstyles every now and then, but since the pandemic, she's been sporting her natural waves. And in this particular photo, she has them scraped up in a messy bun.
Nicole Kidman posts celebratory photo with husband Keith Urban for Father's Day AND her birthday
View this post on Instagram
**Scroll through the photos above to see the picture of Kidman and Urban together**
Kidman previously revealed that she's trying to go for that "Aussie beach girl" look again when it comes to her hair. "I really wanted to have that suntanned skin and long blonde hair," she tells Australia's Who magazine. She also told Refinery 29, "I had that hair. I shouldn't have abused my hair. I loved that hair. What was I thinking? I'm working on getting that hair again."
RELATED: Nicole Kidman Says Playing Lucille Ball Is 'Way Out Of Her Comfort Zone'
View this post on Instagram
Kidman has been enjoying quality time with her husband and two youngest children, Sunday and Faith. They've been in Australia for a year and are staying at their 111-acre farmhouse in New South Wales as they ride out the pandemic. However, for the first few months of the pandemic, Kidman had actually been staying in Nashville.
View this post on Instagram
"We travel together, so we are always together, but never where you are in a house and you can't go to the store, to a restaurant or the movies," Kidman said in an interview about coping with the first few months of lockdown. "Staying home, doing school from home and all of those things that everyone has been doing is a completely different life for us."