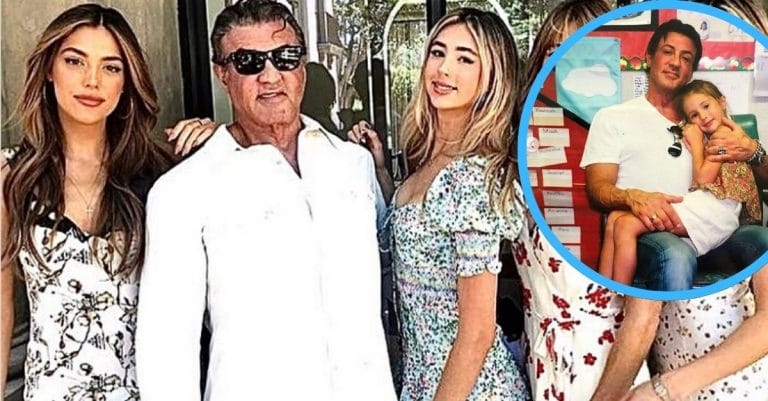 The third Sunday of every June traditionally marks Father's Day in the United States each year. But as the holiday approaches, Sylvester Stallone already has cause to celebrate, and did exactly that when his daughter Scarlet graduated high school this year.
He took to Instagram sharing a vibrant family photo and congratulatory caption. Stallone is the father of three with wife Jennifer Flavin: Sophia, Sistine, and Scarlet. Additionally, he has two sons from previous relationships named Seargeoh and Sage.
Offering congratulations on graduation to Scarlet Stallone
View this post on Instagram
One day ago, Sylvester Stallone shared photos from his daughter Scarlet's high school graduation. Scarlet is the youngest of Stallone's children. Before her, daughter Sophia graduated from USC. Congratulations!
View this post on Instagram
RELATED: Frank Stallone Talks About Being The Brother To Star Sylvester Stallone
In the photos, Scarlet stands with her father and mother and her two sisters. Other pictures show the outdoor graduation location and Scarlet stood beside Mylar balloons offering further congratulations. Stallone's Instagram caption excitedly reads, "Congratulations on graduating high school to our wonderful daughter SCARLET!"
Sylvester Stallone and fatherhood
View this post on Instagram
The Rocky star admits he feels he's a better father than he was when his two sons were born. As a result, he jokingly advises men to wait until their fifties to become parents so they too will do right by their children. At home, Ryan Seacrest once noted of Stallone in a 2019 interview, it's just him and all women with a wife and three daughters. "And a neutered dog," Stallone added.
View this post on Instagram
He also went into his brand of parenting, which emphasizes caution. "I do actually teach them to be very, very cautious," Stallone explained, "to be a little suspicious in life, not take things at face value. But more importantly to try to be incredibly gracious, they've been born extremely lucky. Right now the road is just paved with no bumps in it."
For this Father's Day, he has the gift of pride in knowing he's seen another child through this big milestone. Congratulations, Scarlet Stallone!