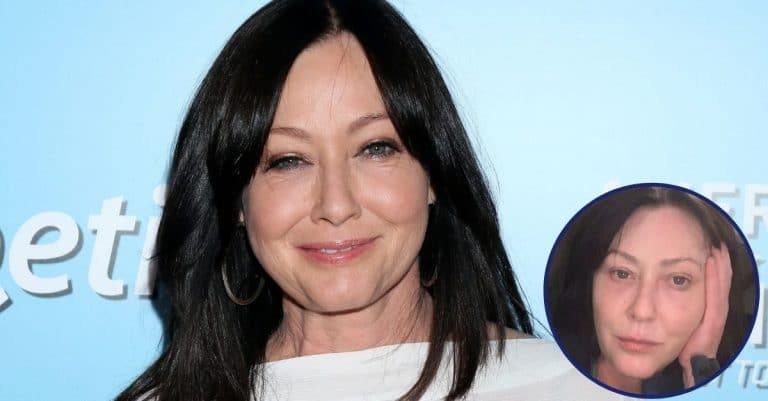 Shannen Doherty recently stunned in a makeup-free selfie, all while celebrating aging and slamming Hollywood for overlooking women without fillers and botox. "Watching movies tonight and noticed there were few female characters I could relate to. You know, women without fillers, without Botox, without a facelift. Women who embraced their face and all the experience it showed," she writes on Instagram.
"I have lived. I love that I've lived and that my face reflects my life. I survived a lot yes cancer but more than that. I embrace me now. Finally. Done with the perception magazines and Hollywood try to make us in to. I want to see women like me. Women like us."
Shannen Doherty wants more recognition and appreciation for women without botox and fillers
View this post on Instagram
Doherty managed to strike a chord with many other women in the industry, like model Paulina Porizkova. She vocalized that she, too, has felt invisible as she ages. "Thank you. We need more of you," she comments on the photo.
RELATED: Shannen Doherty Gives Update On Her Breast Cancer During A Pandemic
"Aging is a privilege afforded to few," another follower says. "You wear your journey beautifully."
View this post on Instagram
Doherty has recently been navigating her cancer. She announced back in 2020 that her cancer had returned following a remission. She was first diagnosed back in 2015. Doherty recently shared the main symptom she noticed when her cancer returned as stage 4 breast cancer, which was extreme back pain.
"It was no longer, 'I worked out, and I'm a little sore.' It was like, 'God, this hurts!'" she told ELLE. Symptoms such as severe pain or the inability to move, pain in the back or neck, numbness or weakness, fatigue, weakness, loss of appetite, and nausea can all be tell-tale signs that cancer has returned and spread to the bones.
View this post on Instagram
According to Prevention.com, her cancer is now considered terminal and she will likely be on treatment for the rest of her life. She is now learning to accept what is and live her best life. Doherty also plans to write love letters to her family to show them how much they mean to her. "That's something I need to do. There are things I need to say to my mom. I want my husband to know what he's meant to me," she said. "But whenever it comes time for me to do it, it feels so final. It feels like you're signing off, and I'm not signing off. I feel like I'm a very, very healthy human being. It's hard to wrap up your affairs when you feel like you're going to live another 10 or 15 years."
"It's like anybody with stage 4 faces this sort of thing, where others want to put you out to pasture," Doherty adds. "I'm not ready for pasture. I've got a lot of life in me."