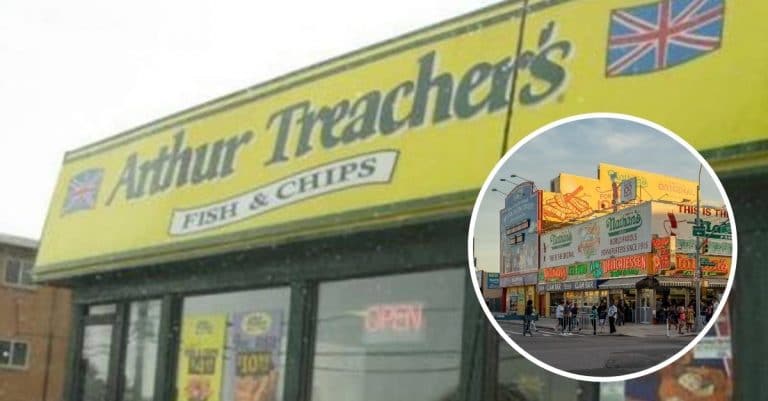 Nathan's Famous brand is set to bring back Arthur Treacher's! Arthur Treacher's was a fast food chain that was famous for fish and chips. It was founded in 1969 and had over 800 locations in the United States. Unfortunately, it eventually faded away due to the cost of fish importing and now there are only two left.
As of right now, Nathan's will relaunch the brand with ghost kitchens and eventually brick-and-mortar stores. Ghost kitchens are basically restaurants without a place to dine, so they would probably offer delivery and pick up.
Nathan's Famous is bringing back Arthur Treacher's
To start, fans will see Arthur Treacher's menu items at Nathan's venues. SVP of restaurants James Walker said, "We're using the same breading that everyone loves. That same hand-batter, crispy golden batter. We'll have the same hush puppies. But we're upgrading all of the proteins. We're adding more shrimp to the menu. We're really upscaling the quality, but keeping those same flavors and appearance that people love about the brand."
RELATED: What Happened To Restaurant Arthur Treacher's Fish & Chips?
He also said that they believe the reinvention will work because there isn't much competition in terms of fast food seafood out there right now. The menu will reportedly include "Fish n' Chips Sandwich, Fish n' Chips Platter, Captain's Dinner, Shrimp n' Chips Basket, Chicken Platter, Shrimp & Fish Basket, Boom Boom Shrimp Platter, Shrimp, Bacon, Boom Boom Fries, Nathan's Famous hot dogs as well as Nathan's recently launched hand-dipped chicken sandwiches to round out the offering. There will also be new sauces."
View this post on Instagram
The brand said it is really excited to update and be a part of a legacy brand. What do you think? Are you excited to see Arthur Treacher's come back?