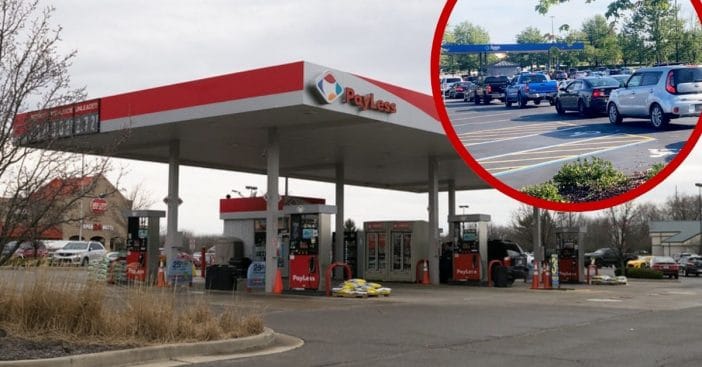 Residents from Maryland to Florida and some neighbors might have noticed long lines at the gas station. This was caused by a cyberattack targeting Colonial Pipeline, which supplies much of the east coast with almost all the area's refined oil.
The FBI attributes the attack to the cybercrime group DarkSide, which caused the pipeline was forced to shut down much of its services on May 7. Because of the supplier's scope and range, many gas stations ended up hiking gas prices until they finally ran out. Here's what the company and experts have to say about the situation and how citizens can best respond to it.
A cyberattack sparked long lines at gas stations to beat the shortage
We just got off the phone with #ColonialPipeline CEO. They are restarting pipeline operations today at ~5pm. More soon.

— Secretary Jennifer Granholm (@SecGranholm) May 12, 2021
As of May 12, TODAY reported 1,700 gas stations along the east coast. Additionally, days after the cyberattack in early May, drivers shared they had to wait on long lines for hours to get gas. Additional data records gas prices in the affected areas as being at their highest point in seven years.
GREENSBORO NC, 25 CAR LINE TO GET GAS

45 MINUTE WAIT pic.twitter.com/Zc2Ra8bPbR

— Souled Idea (@SouledIdea) May 11, 2021
RELATED: Gas Stations Were Once Called 'Service Stations' For A Specific Reason
In response, North Carolina, Florida, Virginia, and Georgia issued emergency declarations. The shortages sparked memories of the toilet paper shortages that hit grocery stores around the country in 2020, with one driver sharing, "All the gas stations closer to where I live are completely empty." On Tuesday, Colonial Pipeline announced it expected most services to be back online by the weekend, and indeed Energy Secretary Jennifer Granholm stated on Twitter that operations have started resuming as usual amid the gas shortage.
What to expect, and what you can do to navigate this shortage
I was lucky to get some gas today, had to wait an hour in line #GasShortage ⛽️ pic.twitter.com/AYWBq9fGkq

— Lin (@LinderlyB) May 11, 2021
Some areas have been hit differently than others along the east coast. Some gas stations are completely out of fuel, others have long lines, and their only options are the premium fillings. In other areas, prices ended up hiked. Some drivers took to getting more gas not immediately for their car by filling containers. Experts both urge people to remain calm during this shortage and also to follow important safety measures if they do try and fill containers.
We know this sounds simple, but when people get desperate they stop thinking clearly. They take risks that can have deadly consequences. If you know someone who is thinking about bringing a container not meant for fuel to get gas, please let them know it's dangerous.

— US Consumer Product Safety Commission (@USCPSC) May 12, 2021
The U.S Consumer Product Safety Commission shared a tweet thread beginning with the advice "Do not fill plastic bags with gasoline," then expanding on other safety guidelines. In the case of price gauging, the White House urges people to call their respective state attorney and report any instances of this. Since this shortage falls before Memorial Day weekend when people often travel, AAA has a series of strategies to keep things running smoothly. For instance, they advise getting errands done in one trip whenever possible, planning trips in an organized fashion, and limit the car's air conditioning use and weight in the vehicle.