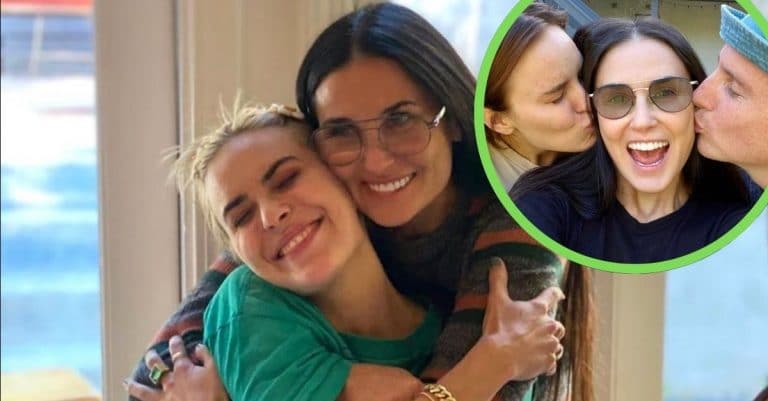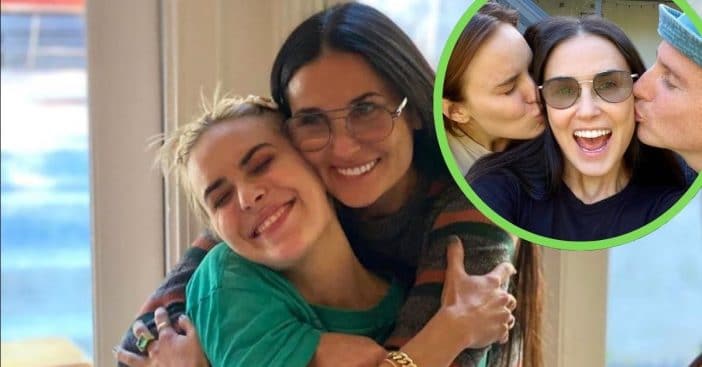 Followers of Tallulah Willis, daughter of Demi Moore and Bruce Willis, saw social media posts announcing her engagement to film director Dillon Buss. While fans found out at a very particular hour on Tuesday – along with a ring video an hour later – Demi Moore and the rest of her family had a private news reveal session.
Moore, 58, also took to Instagram to celebrate the occasion. On Wednesday, she shared photos of Moore, Tallulah, and Buss enjoying the joyous occasion. For family members who could not attend, they held a video call.
Demi Moore shares the family's excitement at Tallulah's engagement
View this post on Instagram
A day after Tallulah shared photos of Buss's proposal, mother Demi Moore showed followers what it had been like for the family to hear the news and celebrate. In the first photo, Tallulah and her fiancé kissing Moore on opposite cheeks while Moore wears a huge smile.
View this post on Instagram
RELATED: Tallulah Willis Was Called 'Ugly' And 10 Years Later Gets Revenge On Instagram
Then, a screenshot shows moments from their video calls with Scout and Rumer Willis. Tallulah sits beside Buss with her engagement ring held out front and center. Scout is seen grinning beside boyfriend Jake Miller. Rumer holds a hand over her mouth in a gasp of happy surprise.
Processing the big moment for all
View this post on Instagram
For Moore, it's been a rush of emotions hearing Tallulah got engaged: pride, joy, excitement, to name a few. "Congrats to my baby girl and her adorable beloved on their engagement!" she wrote on her post. She concluded, "Happy day for the whole family," adding pictures of a wedding ring and a heart.

View this post on Instagram
In another post shared later on Wednesday, Tallulah showcased another ring picture. While her previous posts had short, excited captions in all-caps, this one was longer and shared some of the many emoitons she experienced recently. "Still processing / overwhelmed with the love sent to my and my freckled mans — we are so grateful to all that witness our story's unfolding," she shared.
View this post on Instagram
She also introduced followers to some of Buss's qualities she fell in love with, writing, "My fiancé (!!!) is the most understanding precious human noodle and when we began talking about this seriously I told him due to my lowkey (highkey lol) obsessive, perfectionist, micro lens way of viewing special things in my life I knew I had to be in the drivers seat with this one. And of course Dillon understood – because that's Dillon."