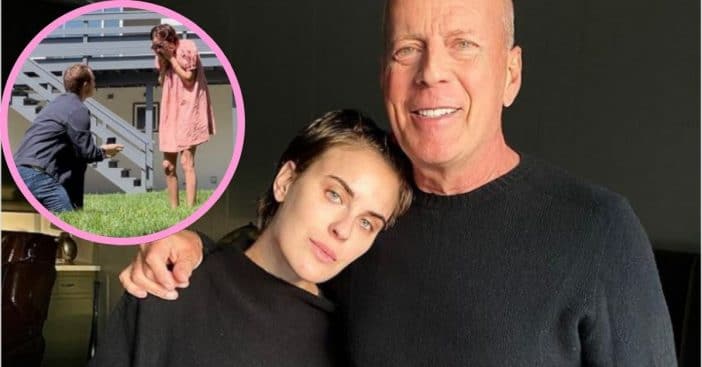 On Tuesday, Tallulah Willis, the daughter of entertainment icons Bruce Willis and Demi Moore, shared she's engaged to film director Dillon Buss. News came via an Instagram post sharing the moment of proposal and saying that fateful "yes."
Both the caption and news from her sister Scout reveal that Tallulah was and still is overcome with joy. That excitement hadn't worn off by the time she shared a video of the engagement ring: a sizable rock catching the light with every movement.
Tallulah Willis announces her engagement
View this post on Instagram
On Tuesday's Instagram update, Tallulah Willis shared news of her engagement with a picture featuring Dillon Buss down on one knee with a ring box open in his hands. Tallulah stands in front of him, hands at her face as she gasps, wearing a peach dress under a cloudless sky.
RELATED: Tallulah Willis Seeks Brain Scan To Better Understand 'Series Of Personal Struggles'
She captioned the post, "with absolute most certainty." Over 36k followers shared their support via offering a like, and left a thousand comments offering congratulations. According to a comment by sibling Scout, Tallulah was still "weeping" by the time that comment went live.
Celebrating a past and future of joy
View this post on Instagram
Rumer Willis also shared words of congratulations and welcome to the newly engaged couple. She declared Dillon the "First Willis Brother." She also shared a picture of the couple, captioned with "love these crazy kids. Congratulations @dillonbuss and @buuski I love you both so immensely and I am so excited for you." She ended the caption with a series of engagement rings, each with a jewel almost as big as Tallulah's new ring.
View this post on Instagram
Indeed, Tallulah allowed followers a close-up look at her engagement ring in a follow-up video shared an hour later. She moves her hand to show off all the angles of the giant stone, and the post barely contains her excitements and internet humor with the caption, "HANDS STILL SHAKIN' — MOMS SPAGHETTI — I'm FIANCÉNCHED." Congratulations to the happy couple, who shared their happiness first on Valentine's Day 2020.
View this post on Instagram