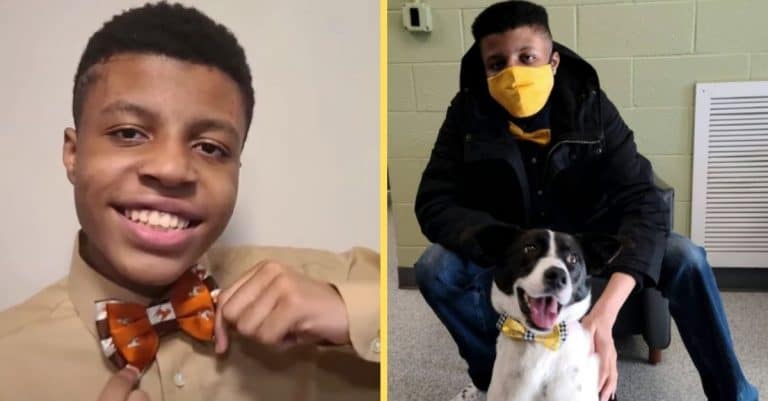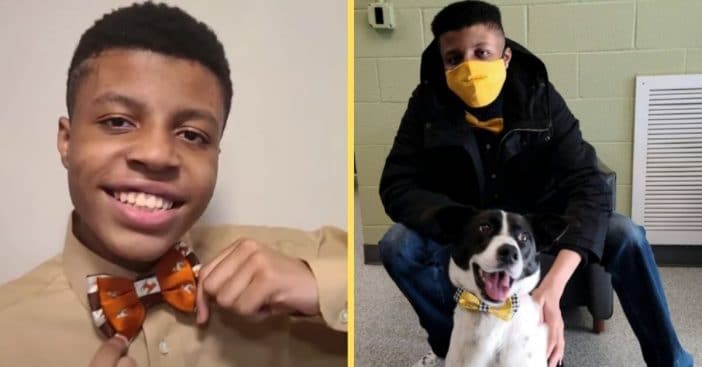 Teenager Darius Brown has made over 1,000 bowties to help shelter dogs get adopted. He is an animal advocate and founder of Beaux & Paws, discovering unusual yet heartwarming ways to get shelter dogs adopted faster. "I just love it when they're wearing one of my bow ties," Brown tells NBC's Rehema Ellis.
Brown has been doing this for the last four years, and has witnessed first-hand his stylish dog attire helping gets dogs adopted three times faster than they would normally. Brown says he loves seeing the success stories that come out of all the dogs he has styled through the years.
Darius Brown makes bowties to help shelter dogs get adopted faster
Brown featured one of those lucky dogs on Instagram recently. "The beautiful Harley here was adopted after sporting my Spring Blossom bow tie," he writes. He also adds a special message for people reading the caption to considering adopting or fostering a dog to help get them out of shelters. "Please consider adopting or fostering a pet today. Contact your local animal shelter for more details. There are so many loving dogs and cats waiting for a FURever home."
RELATED: Mailman Takes Photos With All The Dogs He Encounters On His Route
What inspired his mission
View this post on Instagram
Brown says he was inspired to start making these bowties after seeing communities destroyed by hurricanes Harvey and Irma back in 2017. "I would always see on television and wonder, 'How come there were all these people getting help, but not any animals or dogs being helped?'" After he heard that some dogs were transferred from the devastation in Texas and Puerto Rico to the ASPCA in New York City, he wanted to do what he could to help them find their forever homes and families.
View this post on Instagram
"Never in my wildest dreams did I think it would turn into such an amazing mission that has inspired so many people," he says. Brown himself was diagnosed with delays in speech, comprehension, and fine motor skills as a young kid. After that, he decided to take up sewing when he was just 9 years old. While it was difficult for him, he kept up with it, especially since his family would help him along.
Pushing his mission even further
View this post on Instagram
He mainly credits his sister for helping him to learn the new skill. "When she learned how to sew it was because of our grandmother," he says. "And then our grandmother passed away. So I felt as though when my sister had to teach me how to sew, it was like that family passing down the line thing."
Brown continues to touch more lives than he could've ever thought possible. He recently teamed up with organizations like Wagmor Pets Dog Rescue and continues to find more dogs their forever homes on a regular basis.