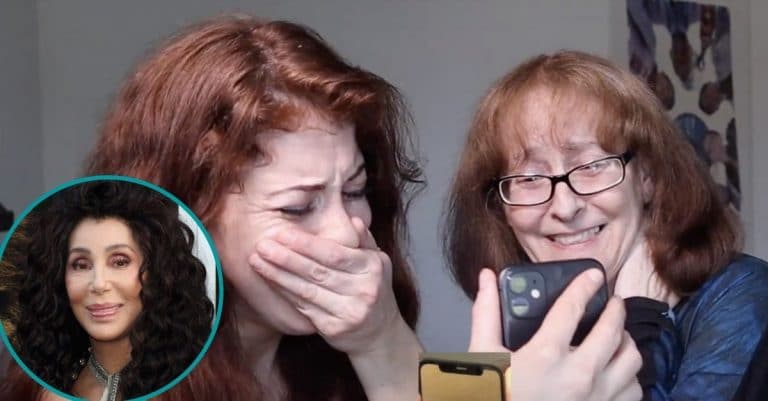 Cher just gave one of her fans the surprise of a lifetime – she video called a mom with Alzheimer's and the reaction is so sweet! Robin Steiner is a 60-year-old mom with early-onset Alzheimer's and her daughter, Erica, recorded the entire conversation that her mom shared with the singer.
"Cher is basically another caregiver in our house – her presence consistently calms my mom when she's frustrated or sad," she writes in the caption beneath the video. Erica also shared that the conversation was the "greatest 8 minutes" of their lives and adds that her mom has been the singer's "biggest fan since childhood."
This video call from Cher has this mom with Alzheimer's over the moon!
My mom has Alzheimer's and is @cher's biggest fan.

Well today Cher surprised her with a call.

Best. Moment. Ever. 😭❤️ pic.twitter.com/Oubjec0sto

— Erica Steiner (@badasscaregivr) April 20, 2021
At the beginning of the video call, Erica tells her mom that someone heard about her and wants to say hi. "Mom, it's Cher," Erica says. Her mom responds, "I know it's Cher," and her daughter laughs. Cher asks Steiner how she's doing and she replies a nonchalant, "Good." "You're just that cool, huh?" Cher teases.
RELATED: Cher Shares Secrets To Her Youthful Appearance At 74 Years Old
Just after a minute of casual chat, Erica reminds her mom again that she's actually talking to the Cher. "This is live, this is a conversation with her; this isn't a video," Erica says, and her mom shrugs and thanks Cher for calling. Once she realized she was talking to one of her idols, she lit up. They even reminisced together about the time Steiner saw Cher in concert in Las Vegas.
I still can't believe this really happened I'm shaaaaaking 😭😭 They had a whole ten minute conversation 😭😭😭😭😭

— Erica Steiner (@badasscaregivr) April 20, 2021
"I love you. I can't do this, it's too much," Steiner says while getting obviously emotional. Now that Erica was able to pull off such a wonderful surprise for her mom, she's looking to do it again sometime in the future. "I'll definitely never be able to top this … but it makes me want to try. I think John Travolta's up next," she says.