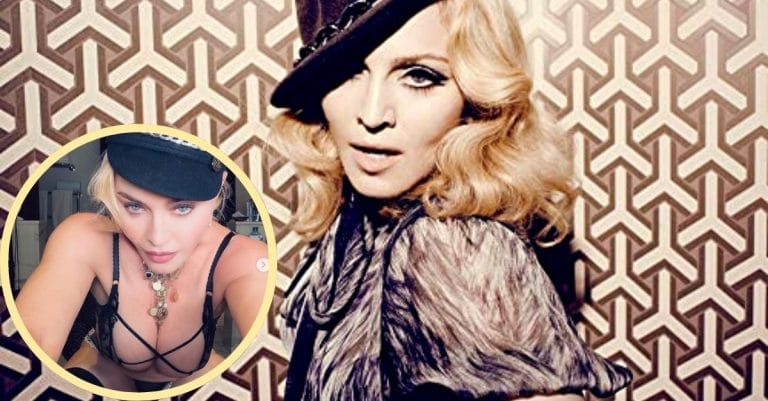 Earlier in March, Madonna received accusations that she'd photoshopped her head onto another person's body. Accusations swirled around a picture from 2015 that had resurfaced recently. Madonna responded with an up close and personal selfie of herself in racy lingerie.
In the first photo, posted to Instagram, Madonna wears a thin lacy bra and black underwear with white lace. Chain links encircle the peaked cap on her blonde hair and her eyes are lined with makeup.
Accusations surface that Madonna did photoshop herself onto another's body
View this post on Instagram
Amelia Goldie, a writer, photographer, and marketer, brought a photo of Madonna from 2015 back into the limelight recently. Earlier this month, she shared a post on the video-sharing platform TikTok captioned "When Madonna posts a photo of herself to IG to promote her album but it's actually your body (I'm not joking)."
View this post on Instagram
RELATED: A Fan Claims That Madonna Arrives "Hours Late" To Concerts And Now He's Suing
The post in question then had pictures of Madonna promoting her Rebel Heart album on Instagram. The post, which went live on May 1, had the caption "I look Kewl." However, Goldie had a picture of herself in the exact same post that she claims Madonna used to photoshop herself onto. The story went viral and other outlets picked it up. Goldie did not initially post the comparison picture onto her own social media platform because she said she sold the image – and thus, its rights – to an outlet. However, a black-and-white comparison is available that went live on July 23, 2015.
Madonna's lingerie photos show it all
View this post on Instagram
Madonna did not directly confront the fallout from the accusations. Defenders and skeptics debate back and forth – the head-to-body ratio is off on Madonna's picture; it was likely the social media team without her knowing; her other pictures can't be trusted.
However, she did offer a post on Monday that might be a response to ease accusations of insincerity in her pictures. The photoset shows her clad in the same black lace lingerie in various poses. Comments poured in and the post accumulated over a million likes and counting. With pictures so unique and up-close, do you think Photoshop came into play here? What about the 2015 image?