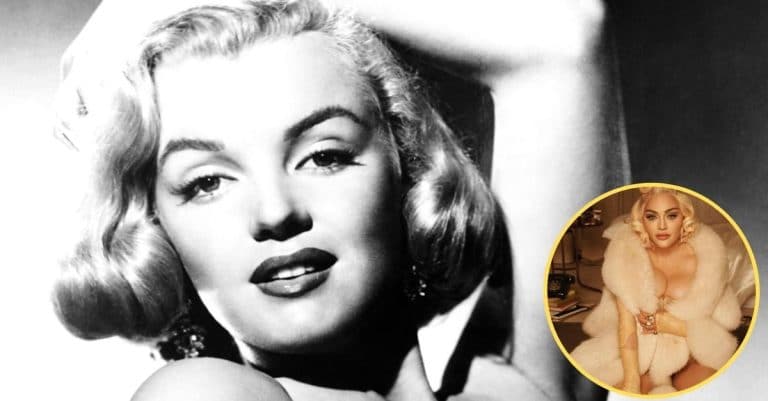 Madonna has channeled her inner Marilyn Monroe in some new lingerie photos posted online. In a photoshoot for V Magazine, Madonna became a spitting image of the beloved late actress.
Photographer Steven Klein released a press release on the photoshoot, saying, "We were not interested in recreating the images exactly but more importantly, we wanted to explore the relationship between photographer and subject. Both the friendship and the artistic process, and how art can imitate life and vice versa."
Madonna channels her inner Marilyn Monroe
View this post on Instagram
In one photo, Madonna is posing in a sultry manner with a pearl necklace in her mouth. Another shot shows her laying on a bed in only fishnet tights, diamonds, opera gloves, and stilettos. In another Marilyn Monroe-esque photo, Madonna poses in a white fur coat with pink roses. The photoshoot was "an homage to the glamour and tragedy" of Marilyn Monroe, according to Hollywood Life Magazine.
RELATED: Frank Sinatra EXPOSED Marilyn Monroe's True Cause Of Death
View this post on Instagram
The photographer continues, "When I sent Madonna the photos, she was really taken by the incandescent fragility of Marilyn at that moment in her life. We decided to find a hotel suite and try to capture the liaison between a star and the camera, the mystery, and magic of this creative collaboration." Madonna is no stranger to recreating Marilyn looks. Back in 1987, she looked like a Marilyn lookalike for an SNL sketch.
Madonna also did an interview with V Magazine on what she does to stay looking youthful. "I don't even think about my age, to tell you the truth. I just keep going," she admits. "Even when I performed almost my entire [Madame X] tour in agony, I had no cartilage left in my right hip, and everyone kept saying, 'You gotta stop, you gotta stop.' I said, 'I will not stop. I will go until the wheels fall off.'"
RELATED: People Are Going Crazy Over Madonna's Butt At The 2021 VMAs