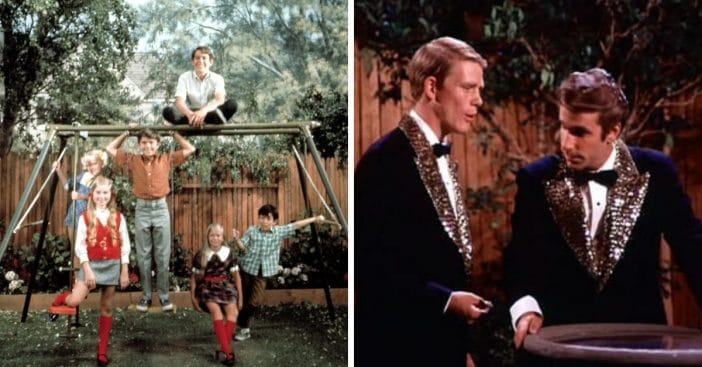 Do you remember the Happy Days episode titled "Fonzie Joins the Band" that first aired in 1975? In the episode, there is a Leopard Lounge dance held outdoors. Fonzie plays his bongo solo and eventually, everyone hops on the dance floor! Did you ever notice that the backyard looks awfully familiar? That's because it is the same backyard from The Brady Bunch!
If you look closely, you'll see the same wooden beams, brown fence, and cinder blocks of the backyard. Both iconic shows filmed at the same studio. A few episodes prior to "Fonzie Joins the Band," Brady Bunch star Maureen McCormick (Marcia Brady) guest-starred on Happy Days.
'Happy Days' once used 'The Brady Bunch' backyard for an episode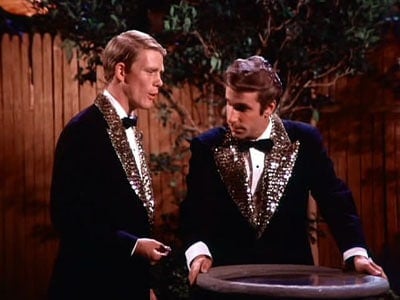 Using each other's backdrops and guest-starring on each other's shows wasn't the only time the actors came together. Maureen once said, "We all usually went to the commissary for lunch. It was cool because there were so many great shows being shot on the lot. You'd see people from 'Star Trek' and 'Happy Days.'"
RELATED: 122 Classic (and Not-So-Classic) TV Sitcoms from the 1970s
Little House on the Prairie star Melissa Gilbert also recalls fond memories of eating lunch with Henry Winkler (Fonzie). Melissa said, "Everybody on the lot working on TV shows or movies broke for lunch at approximately the same time and headed for the commissary, where my eyes darted across the large dining room. Oblivious to my own profile as one of the stars on a hit show, I was always looking around. I got excited whenever I saw someone famous, like 'Mork & Mindy' stars Robin Williams and Pam Dawber or the guys from 'Happy Days.'"
Oh, to be a fly on the wall during those days!