Betty White's career eight decades and celebrating her 99th birthday wasn't going to slow that momentum. In fact, on the day of her birthday, January 17, she announced the re-release of a show of hers that disappeared for a while: Pet Set.
The announcement came via Instagram, accompanied by White's special brand of humor celebrating her age and all the rights this birthday entitles her. The show, which enjoyed some air time back in 1971, now has another chance thanks to Apple TV, Google Play, and Amazon Prime Video. Learn more about the momentous occasion for White and her show here.
Behind-the-scenes of the 'Pet Set'
View this post on Instagram
"Would you believe it?!" Betty White inquires in her Instagram caption just in time for her birthday. She goes on, "It's my 99th birthday which means I can stay up as late as I want without asking." In addition to birthday cheer, she also shares news of her upcoming long-overdue show's re-release.

RELATED: Betty White's Tips On Living To Be 99 Years Old
The caption further reads, "I am also very pleased to let you know about the re-release of my long-lost series after fifty years! I am just so proud of the "Pet Set". I hope everyone is well and staying safe. We will get through this." E! Online notes that White had actually already produced Pet Set decades ago with her now-departed husband Allen Ludden. The talk show sees White interview various celebrities who all bring their pets along, some typical domestic pets, and others rather unique like eagles and zebras.
What to watch out for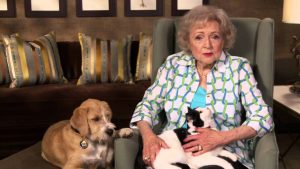 Over the years, Betty White became known as an animal fan herself and she spent her 99th birthday with them. Even though she's not currently hosting Pet Set still, she feeds a pair of ducks that come by her property each day. It fills in the gap from Pet Set, which ended when Carnation Company, its main sponsor, decided to focus the funds towards commercials instead of the show. In total, it originally aired from 1971 to 1972.
While White goes bird-watching, anyone wanting to watch this anticipated re-release of Pet Set can do so starting on February 23. The streaming services of Apple TV, Google Play and Prime Video will play host to 39 half-hour episodes. Each episode follows a routine where a celebrity comes out and introduces their pet. The show would then focus on a certain species of animal. Then, an animal expert would go outside to show a very exotic animal, sometimes joined by white and the celebrity.