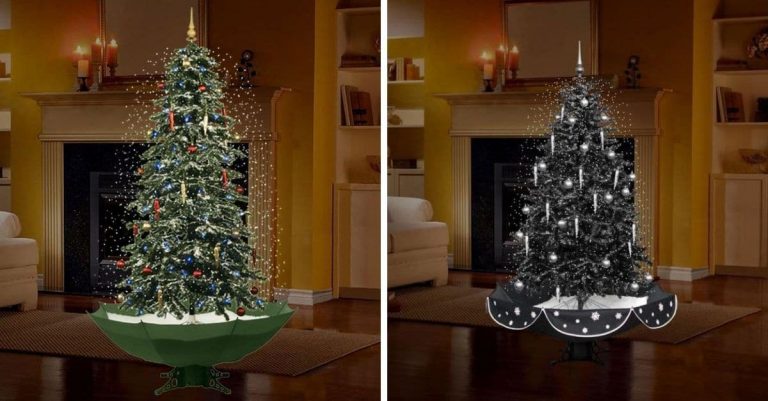 We may be partial to the nostalgic aluminum trees and the beauty of real trees, but sometimes you just want something insanely cool and new for the holidays. Home Depot is now selling a very unique Christmas tree with lots of features. It actually snows and plays music!
The tree is made by Fraser Hill Farms. The artificial tree comes in several colors, from the classic green to a classy black tree. Based on the space you have, you can also get it in a 5.5 foot or 6.25-foot version. It 'snows' by blasting artificial snow from the center of the tree and the snow falls back into the umbrella base to be used again.
This is not your plain 'ole Christmas tree
It also comes with lights, ornaments, and built-in speakers that play 25 different Christmas songs including "Jingle Bells" and "We Wish You A Merry Christmas." It really does seem like the perfect Christmas tree.
RELATED: Why Aluminum Christmas Trees Were So Popular In 1950s America
The description reads, "When Mother Nature fails to deliver that picture-perfect snowfall you wish for every year, create your own snowy scene with Fraser Hill Farm. Not only does this tree come pre-strung with warm LED lights, a finial tree topper, and a light assortment of tree ornaments (saving plenty of room for your own), but it also produces a flurry of self-containing, faux-snow that trickles down each branch and creates a natural snowy scene."
The best part? It is under $200! Better get one quick because I think these will be sold out soon. It would be especially neat for those who live in dry areas and don't get snow on Christmas.
Can you see yourself having one of these Christmas trees or do you prefer a more classic and nostalgic version? Take a look at it in action below:
This story may contain affiliate links from which we may earn a small commission.