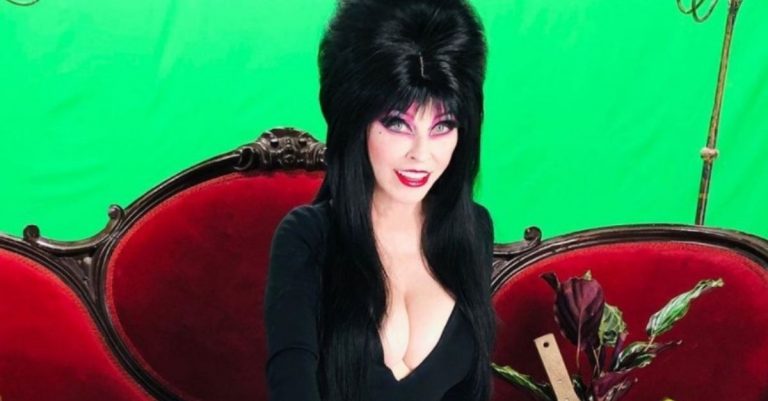 Cassandra Peterson comes alive during Halloween. She has portrayed the iconic Elvira, Mistress of the Dark, for over 40 years. This year she is still keeping busy and will be seen virtually instead of in-person due to the pandemic. She released a new music video, opened up her online boutique, helped co-write a comic book series, and is finishing her long-anticipated autobiography.
On October 30th, she will also take place, as Elvira, in the virtual benefit "In Search of the Sanderson Sisters: A Hocus Pocus Hulaween Takeover." The benefit is for Bette Midler's New York Restoration Project and she will reprise her role as Winifred Sanderson from Hocus Pocus.
Elvira, Mistress of the Dark, will only appear in virtual events this Halloween

Elvira, now 69 years old, looks as beautiful and is as funny as ever. In her new music video called "Don't Cancel Halloween," she begins by describing what a great Halloween it will be this year. All while wearing an Elvis Presley shirt!
RELATED: See What Elvira, Mistress Of The Dark, Looks Like Now
Then she transforms into the Elvira we know and love with the plunging dress. She starts singing, "I'm the Queen of Halloween… COVID-19 ruined everything…" In the description box, she says she hopes the song will lift the "spirits" of her fans during this spooky season.
Her boutique, or as she calls it a "bootique," is now online. She sells coasters, phone cases, shirts, mugs, and even election gear that says "Make America Goth Again." While you may not be able to meet Elvira in person this year, you can certainly get in the spirit with her music video, movies, and her memorabilia.
Watch her funny music video below to get in the Halloween spirit: