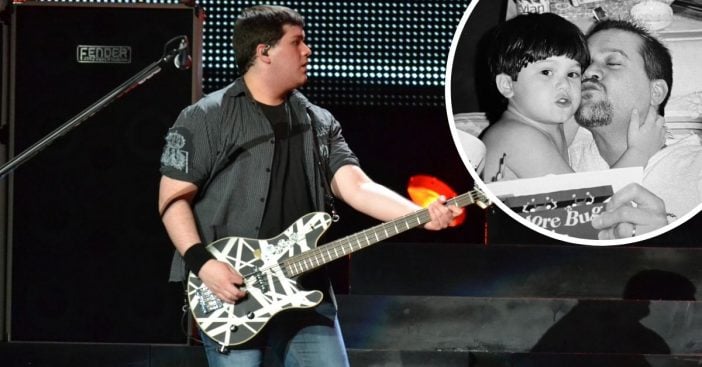 The world recently lost the incredible musician Eddie Van Halen. His son Wolfgang is dealing with the painful loss of losing a parent. To cope, he has been sharing some old family photos, some including his mother and Eddie's ex-wife Valerie Bertinelli.
Wolfgang and his father were particularly close as they often toured together. Wolfgang toured with Van Halen since he was about 16 years old. He is now 29 years old and is an accomplished musician, following in his father's footsteps.
Wolfgang Van Halen shares family photos of his late father Eddie
— Wolfgang Van Halen (@WolfVanHalen) October 9, 2020
The photos are all black and white images from when Wolfgang was a young child. In one photo, Eddie is reading to his son as they lay down together on a couch. In another, Eddie and young Wolfgang look relaxed on a couch.
RELATED: Eddie Van Halen's Son Wolfgang Posts Touching Tribute On Twitter
— Wolfgang Van Halen (@WolfVanHalen) October 10, 2020
The last image is of Eddie, Valerie, and Wolfgang. They swing the little boy and appear to be on a beach. There are big smiles all around. Many fans liked and shared the images on Twitter, sending their condolences to Wolfgang. Some wrote that his dad was so proud of him, while others shared advice for the grieving process.
— Wolfgang Van Halen (@WolfVanHalen) October 11, 2020
Eddie's ex-wife Valerie and current wife Janie Liszewski also shared touching images and tributes to Eddie. Valerie shared a black and white image of herself, Eddie, and a very young Wolfgang. She wrote, "40 years ago my life changed forever when I met you. You gave me the one true light in my life, our son, Wolfgang. Through all your challenging treatments for lung cancer, you kept your gorgeous spirit and that impish grin. I'm so grateful Wolfie and I were able to hold you in your last moments. I will see you in our next life my love."
View this post on Instagram
Sending our condolences to Wolfgang and the family.