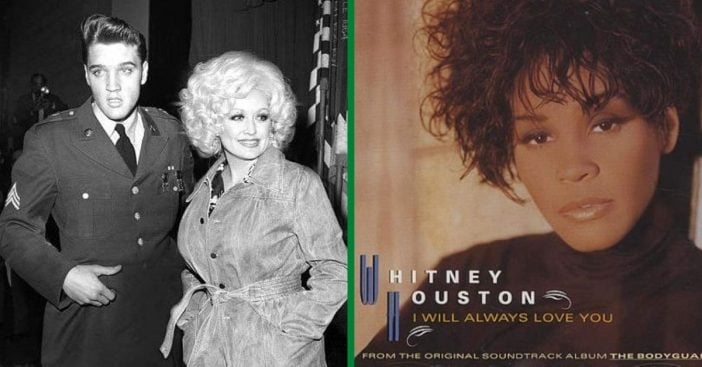 "I Will Always Love You" was a massive hit for Dolly Parton and even more so for the late and great Whitney Houston. It reached No. 1 on the Billboard Hot Country Songs chart twice. It also spent a then-record-breaking 14 weeks at number one on the Billboard Hot 100 chart and is one of the best-selling singles of all time, according to Wikipedia.
However, despite the success of the song, Parton did not allow Elvis Presley to cover the song. But, it wasn't because she didn't like him or his creative vision. "It didn't have anything to do with Elvis. I loved Elvis," Parton says on Reba McEntire's podcast. Originally, Parton was thrilled that Elvis wanted to record the song and even planned to meet with him at a recording studio.
The reason why Dolly Parton didn't want Elvis Presley to cover her chart-topping song
"I already had a No. 1 song, 'I Will Always Love You.' And that was the most important copyright I had in my publishing company. And so I was so excited, I told everybody. They had called me that Elvis was recording it, and if I wanted to come to the studio. Elvis wanted to meet me and all that," Parton reveals.
RELATED: Remember The Moment Dolly Parton Sang "I Will Always Love You" To Kenny Rogers For The Last Time
Parton mainly had an issue with Presley's controversial manager, Colonel Tom Parker. "The night before the session, Colonel Tom called me and said, 'You know, we don't record anything with Elvis unless we have the publishing, or at least half the publishing. 'I said, 'Well, that throws a new light on this. Because I can't give you half the publishing. I'm gonna leave that to my family.'"
Despite anything, Parton believes Elvis would've sung the song perfectly if it had all worked out. "I said, 'I can't do that.' And he said, 'Well, then we can't do it.' And I cried all night. 'Cause I thought, 'Oh, I just pictured Elvis, like, singing it.' And I know that Elvis loved it. And I know it wasn't him, but it's true. I said 'no.'" Imagine what the song would've sounded like if Dolly Parton allowed Elvis to cover it!