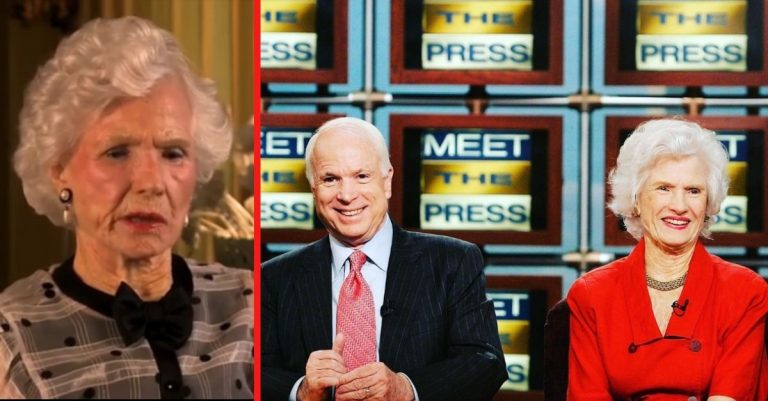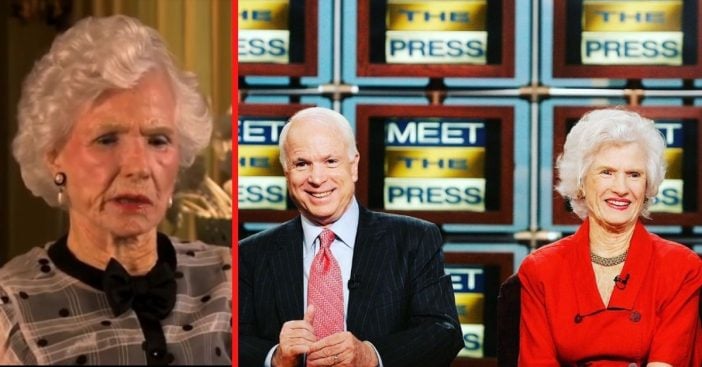 Roberta McCain, mother of the late Senator John McCain passed away on Monday, October 12
She died peacefully at the age of 108 at her home in Washington, D.C.
Americans met the energetic mother and Navy widow during Senator McCain's 2008 presidential bid when she was an active force and presence through the campaign
On Monday, October 12, Roberta McCain, mother of the late Senator John McCain passed away. The news comes from the senator's widow, Cindy. The famous mother died at home in Washington, D.C. at the age of 108.
Though she limited her involvement with politics, Roberta McCain became famous in her own right. She stayed involved just enough to always teach her children John and Joe, as well as inspire her daughter-in-law.
The early life of Roberta McCain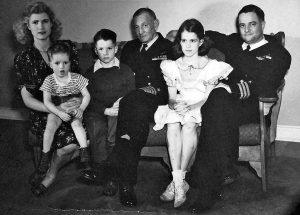 Born on February 7, 1912, Roberta McCain (née Wright) called many places home since her family traveled a lot. But she found her way from Muskogee, Oklahoma to Los Angeles, California, and called the latter home. Her marriage to naval ensign John S. McCain Jr. got Roberta heavily engaged in life as a naval wife. She stayed active as a member of this demographic by attending events and joining organizations.
RELATED: Meghan McCain Shares Emotional Tribute To Late Father, John McCain, A Year After His Death
The birth of her children set the stage for another way to show her unique, enduring activism. Roberta McCain was the mother of Jean Alexandra, John Sidney, and Joseph Pinckney. She passed her Episcopalian faith and practices onto her so the faith would be as important to them as it was to her. After John joined the Navy and was captured as a POW, Roberta held to Navy traditions and wanted no sympathy; she remained steadfast in her faith in John and those in power to get him home.
Supportive mother, colleague, friend

It is with great sadness that I announce the death of my wonderful Mother In-law, Roberta McCain. I couldn't have asked for a better role model or a better friend. She joins her husband Jack, her son John and daughter Sandy.

— Cindy McCain (@cindymccain) October 12, 2020
McCain did return and would recover from his torture and run for Senate, then eventually the presidency. It was during this 2008 presidential bid that Americans really got to know Roberta McCain, especially in this new, modern light where she endured as well as her younger peers. All that traveling ended up part of a deep-rooted trend of hers. Looking back in 2007, Roberta (95 at the time) recalled, "I was driving across the continent [in 2003] and had 300 miles to Los Angeles," she said. "I thought, 'Well, I can make it tonight.' So I put the gas on."
https://www.instagram.com/p/CGQW-RuBweR/?utm_source=ig_web_copy_link
Roberta McCain turned 107 five months after her son passed away. After widow Cindy and the senator's mother mourned together, Cindy shared a birthday message reading, "You are the epitome of strength and grace, an American treasure and one of my life role models. Thank you for showing me and so many others how to truly live life on your own terms." On Monday, Cindy then had to announce Roberta's peaceful passing in the afternoon. She did not have the coronavirus, but Cindy explained that she'd been declining for some time now. Roberta created a sprawling family legacy, though she did outlive some members. Cindy notes that she "joins her husband Jack, her son John and daughter Sandy." In total, she had three children, 10 grandchildren, 11 great-grandchildren, and seven great-great-grandchildren. Rest in peace.
https://www.instagram.com/p/Be580kvgCvd/?utm_source=ig_web_copy_link