Crime drama CHiPs introduced viewers to thrilling chases and memorable characters. Each needed to grapple with trouble in the streets, their own motivations, and their peers. During its run, which lasted from September 15, 1977, to May 1, 1983, the show introduced a lot of memorable officers. One cast member includes Michael Dorn, who played Officer Jedediah Turner. Where is he now?
Michael Dorn was born on December 9, 1952 in Texas but called Pasadena, California home. There, he grew up and went to college, studying radio and television production. His interests in entertainment began early, though adjacent to his future big career of acting. Dorn dove into music, performing with various bands throughout his home state. Before becoming part of any cast, he solidified his musical talents.
Look for greatness in unexpected places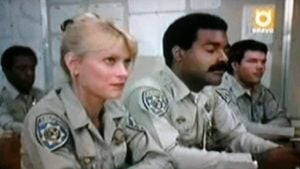 Blink and you might miss Michael Dorn's uncredited appearance in Rocky (1976). There, he played Rocky's bodyguard. The prime time drama W.E.B. also saw Dorn with a small, guest appearance in it. But this 1978 occasion proved enough to gain producer Lin Bolen's attention. Bolen introduced Dorn to acting instructor Charles E. Conrad. After six months of tutelage, Dorn was fully equipped to win his role on and join the cast of CHiPs.
RELATED: Take A Look At The Cast Of 'CHiPs' Then And Now 2020
Dorn's time on the crime show lasted from 1979 to 1982. Five years later, Dorn landed his most enduring role to date as Lieutenant Worf in Star Trek: The Next Generation and Deep Space Nine. As the Klingon Starfleet officer, Dorn accumulated more on-screen appearances as the same character than any other part of the Star Trek extended cast.
Is Michael Dorn still acting?
https://www.instagram.com/p/_EoPLljb2I/?utm_source=ig_web_copy_link
That's just how Dorn wants it to be. Many actors who hit it big in TV shows worry their TV role limits their prospects after the show. Dorn, however, countered, "f what happened to the first cast is called being typecast, then I want to be typecast. Of course, they didn't get the jobs after 'Trek.' But they are making their sixth movie. Name me someone else in television who has made six movies!" That list of six films has since extended extensively. He's been in just about every Star Trek title from The Undiscovered Country (1991) to Nemesis (2002).
Dorn's also worked alongside the likes of Tim Allen in both The Santa Clause 2 and The Santa Clause 3: The Escape Clause as the Sandman. On a more serious note, he's worked on Days of Our Lives for a year and superhero series Arrow. Young audiences can recognize his voice in a lot of voice acting credits, from Spider-Man to Winx Club and in plenty of video games. In his personal life, Michael Dorn became a member of the Aircraft Owners and Pilots Association; both he and Sylvester Stallone are avid aircraft enthusiasts and own several of their own. Dorn's even flown with the Blue Angels and Thunderbirds. In 2010, he received a diagnosis of, in his words, "early, early" stage prostate cancer. Now, he's a vegan.