Demi Moore and Bruce Willis were once married and have three daughters together. Even though they are no longer together and haven't been married in 20 years, they seem to be spending quarantine together. They are still good friends and both just wanted to be with the kids!
In fact, they even shared photos wearing matching pajamas! Both Bruce and Demi are seen in matching green striped pajamas. Their daughter Scout is wearing them as well, along with friend Dillon Buss and even the dog!
Demi Moore and Bruce Willis seem to be spending quarantine together in matching pajamas
Demi and Bruce's daughters are Tallulah, 26, Scout 28, and Rumer, 31. Demi has shared other photos of herself and the kids during the quarantine. In one photo, they sat on the floor looking at old family photos. She said they were working on a family photo project. Demi also shared a video of the girls singing together, while Scout played the guitar.
RELATED: Bruce Willis And His Daughters Are Looking Happy In Hawaii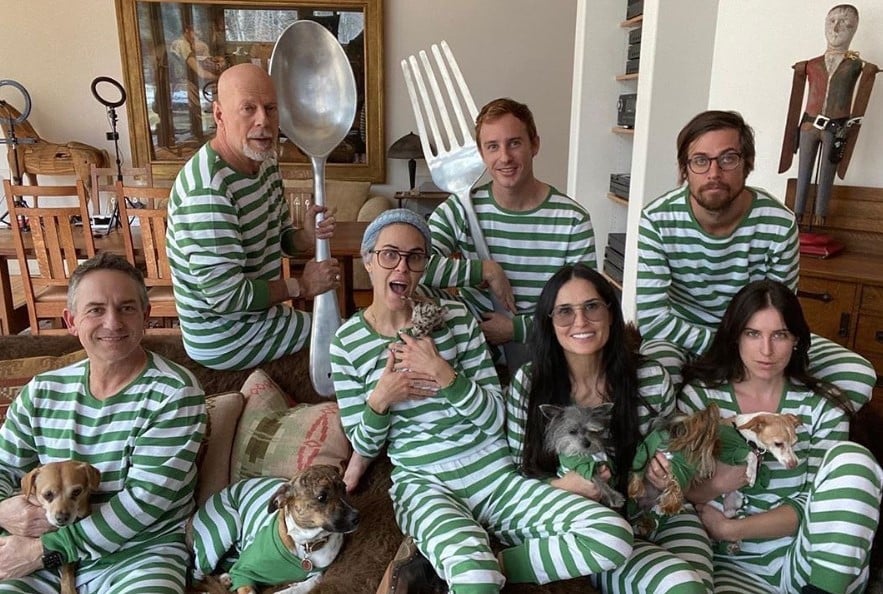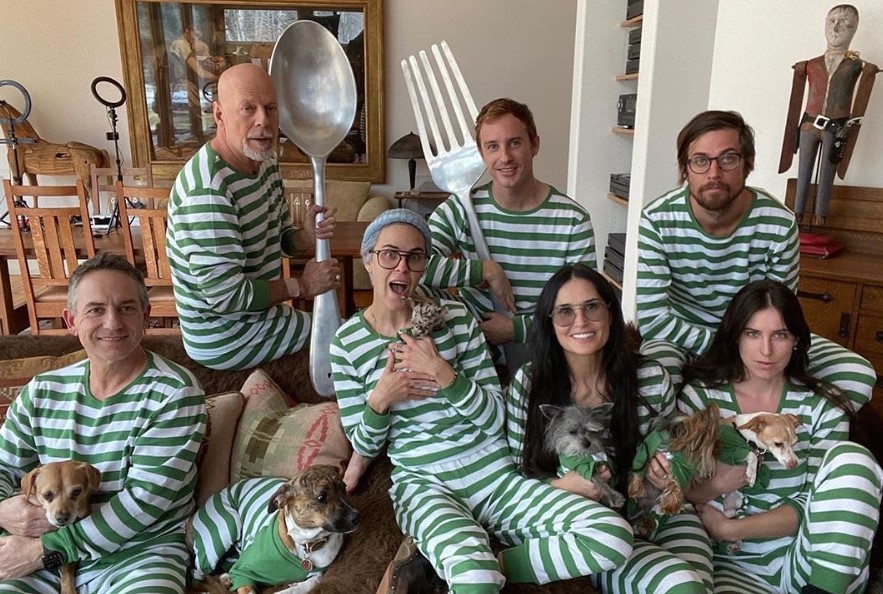 Demi has recently written a memoir called "Inside Out," and in it, she talks about her divorce to Bruce. She said, "It's a funny thing to say, but I'm very proud of our divorce. I think Bruce was fearful at the beginning that I was going to make our split difficult, and that I would express my anger and whatever baggage that I had from our marriage by obstructing his access to the kids — that I'd turn to all of those ploys divorcing couples use as weapons."
View this post on Instagram
She continued, "But I didn't, and neither did he. [It] wasn't easy at first, but we managed to move the heart of our relationship, the heart of what created out family, into something new that gave the girls a loving, supportive environment with both parents. We felt more connected than we did before the divorce.
Bruce is now remarried to Emma Heming Willis and they have two daughters, Mabel Ray, 8, and Evelyn Penn, 5.