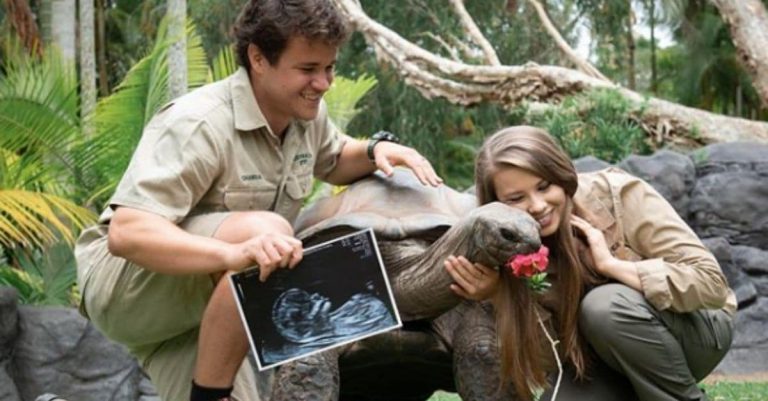 Bindi Irwin announces the gender of her baby!
She has been keeping fans completely updated on the process of her pregnancy journey.
Husband Chandler Powell is just as excited!
Just a few hours ago, Bindi Irwin announced that she is having a baby girl with husband Chandler Powell! Since the announcement that she was pregnant, Bindi and Chandler had been calling their unborn child 'Baby Wildlife Warrior.' She has been keeping fans updated on her pregnancy journey, which started shortly after the two wed in a private ceremony with close family.
"Baby girl, you are our world," Bindi writes in the caption of the photo. "Our beautiful daughter is now about the same size as a hatchling Aldabra tortoise and is as healthy as can be. We can't wait for her arrival next year." 
Bindi Irwin and Chandler Powell announce the gender of their baby… It's A Girl!
https://www.instagram.com/p/CFb_F12BFIT/
Just a few weeks ago, Bindi shared their very first sonogram of the baby. "Baby Wildlife Warrior is about the size of a hummingbird now!" she says in the post at the time. "We can't wait to teach our little one about the importance of protecting our planet and the beauty of the wildlife and wild places we love so much. Thank you for your kindness and support on this magical journey."
RELATED: Bindi Irwin Shares Insight On The Moment She Found Out She Was Pregnant
The two are so excited to welcome their 'Baby Wildlife Warrior' into the world next year
https://www.instagram.com/p/CFDJgfRB_Uu/
New photos of Bindi have yet to show a baby bump, but we sure do hope to see one soon! Bindi seems extremely excited to become a mom, just as Chandler does to become a dad. They both have continuously said that they plan to teach their 'Baby Wildlife Warrior' love for the planet and animals, just as the late Steve Irwin did for his kids.
Chandler shared his excitement on the news of their baby's gender as well. "Our little girl and my beautiful wife are my entire world. I'm so excited to meet our daughter when she's born next year and to see the incredible person she will grow up to be❤️" he says in the caption of his own post, the same photo as Bindi shared. "Here's to the greatest new life chapter. Baby girl and I love you beyond description. " Bindi responds to Chandler's post. So sweet! Congratulations to the couple on their baby girl coming next year.