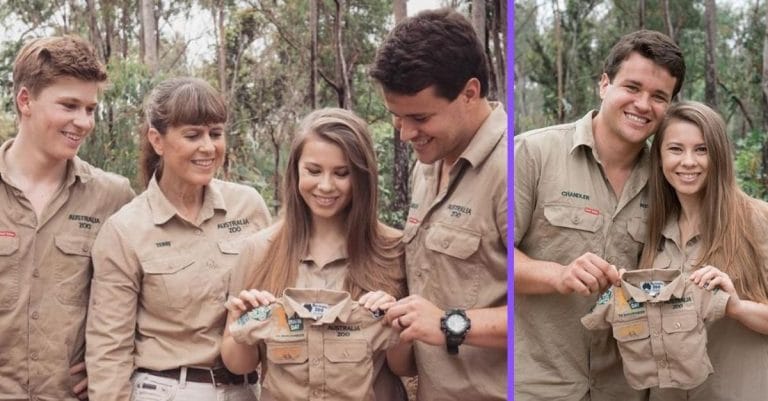 Bindi Irwin and her husband Chandler Powell have announced that they are expecting. 

This is their first child.

They got married in March.
Bindi Irwin just announced that she is expecting! Bindi got married in March to husband Chandler Powell. Both Bindi and Chandler shared a photo of themselves holding up a tiny Australia Zoo uniform. They both work at the Australia Zoo, where Bindi's mom Terri and brother Robert also work.
Bindi captioned the photo, "Baby Wildlife Warrior due 2021. Chandler and I are proud to announce that we're expecting! It's an honour to share this special moment in our lives with you. Though I'm still in my first trimester, we really want you to be part of our journey from the beginning of this new life chapter."
Bindi and Chandler are expecting!
https://www.instagram.com/p/CDvqncwhmXJ/?utm_source=ig_embed
She continued, "We couldn't wait to share the news as this beautiful little being has become the most important part of our lives. Your support means the world to us. Please let me know your best advice and send good vibes & prayers to our little sweetheart. Love & light. ❤️"
RELATED: Bindi Irwin Shares Beautiful Video Of Father Steve Irwin Speaking On Fatherhood
Chandler shared the photo and wrote, "We're going to be parents!! We have a baby Wildlife Warrior on the way coming in 2021. Becoming a dad is the highlight of my life. I cannot wait to embark on this new adventure and life chapter with my gorgeous wife, @bindisueirwin. Bee, you're going to be the most amazing mother."
https://www.instagram.com/p/CDvz-9OD-qT/
Bindi's brother Robert shared a similar photo, but Bindi and Chandler are joined by Terri and Robert in the photo. He wrote, "The most exciting news ever! I am so happy for Bindi and Chandler to be welcoming a new member of the family. I can't believe I'm going to be an uncle!!! It's such a happy time for our family – I look forward to this brilliant new chapter and all the fun adventures ahead with a new little Wildlife Warrior!"
What exciting news! Fans flocked to the comments to say how excited they are for the couple. Congrats, Bindi and Chandler! We can't wait to follow the journey.