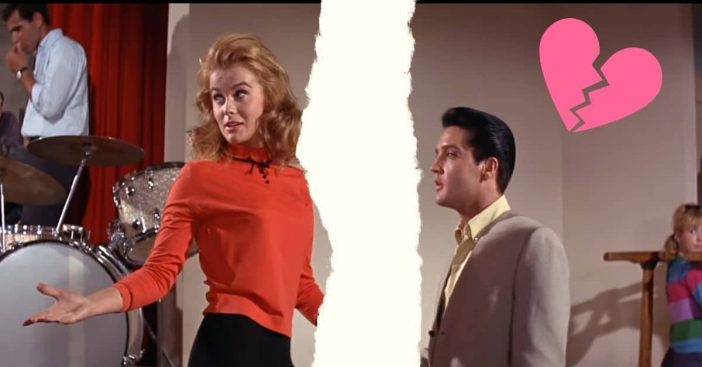 Couples can start off with the most inspiring love story of all. The stuff of movies. Whether things stay that way or not is entirely variable. Priscilla and Elvis Presley became an iconic couple but their relationship was not without troubles. That came, in part, in the form of actress Ann-Margret Olsson (one of our 50 Fabulous Stars of the 1970s).
Despite fighting to make it work, Presley did not stay faithful to Priscilla. In fact, he quite famously had affairs. One well-known example came with Ann-Margret, who he met while working on set for a song. However, she knew things had to end.
Viva Las Vegas
While developing the sensational musical hit Viva Las Vegas. Elvis was introduced to his costar. George Sidney made the fateful introduction, "Elvis Presley, I'd like you to meet a wonderful young lady, Ann-Margret. Ann-Margret, this is Elvis Presley." In an autobiography, Ann-Margret noted, "The significance was lost on Elvis and me. I reached out my hand and he shook it gently."
RELATED: Elvis Presley's First Appearance On 'The Ed Sullivan Show' Caused A Huge Scandal
The two got off to a lighthearted start, according to her book. "'I've heard a lot about you,' we said at the same time, which made us laugh and broke the ice." Immediately after their warm introduction, the rumors started flying. And they were not unfounded. The two had an affair despite the fact that Presley was supposed to wed Priscilla. Both parties felt very aware of this.
Ann-Margret knew the next move
"There were other factors in Elvis's life that forced him apart from me," Ann-Margret admitted. "And I understood them." Her mind went to Priscilla. The King was expected to eventually marry Priscilla. The press really put pressure on this "commitment" too, causing Elvis to receive much criticism. Priscilla's own book, Elvis and Me, indicates that Elvis confessed everything and returned to her fully.
"Elvis had always been honest with me, but still it was a confusing situation," Ann-Margret recalled. Things gradually tapered, then, "We continued to see each other periodically until we had dated for almost a year. Then everything halted." Production for Viva Las Vegas, which introduced the two, ended in 1963. In 1967, Elvis finally married Priscilla. Until then, through their affair, Ann-Margret explained, "We knew the relationship had to end, that Elvis had to fulfill his commitment."