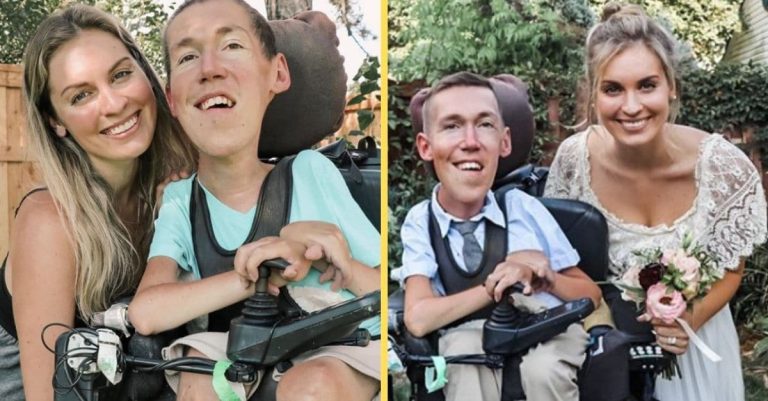 Shane Burcaw and Hannah Aylward are the stars of the YouTube channel "Squirmy and Grubs" which has garnered almost 800,000 subscribers. The couple recently got married at the beginning of this month, but not everyone has been supportive of it. This is because they are an interabled couple.
"If the past two years of having a YouTube channel have taught me anything, it's that you're never going to be able to educate everyone," Hannah writes on Instagram. "No matter what you do, some people will just never come around." The caption joined a photo of their backyard wedding on September 4th in Minneapolis.
Interabled couple Shane Burcaw and Hannah Alyward address hurtful comments following their wedding
https://www.instagram.com/p/CFA2xZmF-KB/?utm_source=ig_embed
The photo of the two had an overlay of hurtful comments from people on their Instagram account. "A few years ago, reading words like these was painful. For a while, I held onto the idea that once Shane and I were married, all the people doubting our relationship would realize it was real," Hannah writes in the caption.
RELATED: Man Asks Brother With Down Syndrome To Be His Best Man In The Sweetest Way
https://www.instagram.com/p/CDhyc6Fl0wZ/
She continues, "Now, of course, I'm not that naive. Although it's taken time, I'm able to completely dismiss people like this. Shane and I continue to make content and share our story with the hopes of showing as many people as we can that disabled people are worthy partners. Comments like these only encourage us to continue! We're so grateful for all of the people that our story has managed to reach in a positive way."
Despite any hurtful comments, the couple maintains a strong and loving relationship
https://www.instagram.com/p/CE7FjCDFyeE/
Shane has spinal muscular atrophy, which is a genetic disorder that causes wasting in his muscles. He has used a wheelchair since he was two years old. Their YouTube videos highlight what it's like to be in a relationship where one person has a disability and the other does not. Of course, such a relationship has been met with a lot of questions and comments, not many of them being so positive.
"Is he rich or something?" one commenter says. Another writes, "This is some kind of joke." A third commenter writes, "But for real though… does she also have another partner for having sex with?" Along with many other hurtful comments. Despite anything, the couple has managed to put the painful comments behind them and come out stronger and happier in their relationship. Congratulations to the happy couple! Check out one of their videos below.