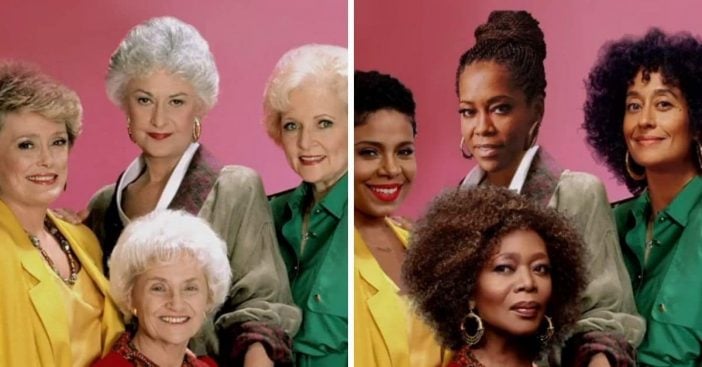 Alfre Woodard, Tracee Ellis Ross, Sanaa Lathan, and Regina King will share their own recreation of the iconic show The Golden Girls. The original series followed four older women as they lived together. They were always getting into trouble or doing something hilarious!
The recreation will take place on Zoom and it will be free for everyone to watch. Tracee shared a video on Instagram. It shows the original Golden Girls transforming into Tracee, Alfre, Sanaa, and Regina. It appears that Sanaa will play Blanche, Tracee will play Rose, Regina will play Dorothy, and Alfre will play Sophia.
Four actresses will come together to reimagine 'The Golden Girls'
https://www.instagram.com/p/CEzRIpAlIF5/
To watch, all you have to do is sign up here. The description of the event states, "Join us for an evening that takes a look back to the sitcoms of yesteryear- Before you could pause your screens or binge-watch. We bring to you our rendition of 'Golden Girls,' reimagined with an all-black cast of your favorite actresses: Alfre Woodard, Tracee Ellis Ross, Sanaa Lathan, and Regina King, directed by Gina Prince-Bythewood and hosted by Lena Waithe."
RELATED: 10 Hilarious Lines From 'The Golden Girls' That Will Make You Want To Watch It Right Now
In addition, "This event is in partnership with Zoom, and the first episode is spotlighting and supporting Color of Change – the nation's largest online racial justice organization." The event takes place virtually tonight, September 8, 2020, at 9 p.m. ET.
During the pandemic, it has become popular to get casts together for Zoom events. Recently, cast reunions have been announced for The West Wing and The Fresh Prince of Bel-Air. There is also a Friends reunion in the works, but it has been delayed due to the pandemic.
Will you be watching the recreation of The Golden Girls with an all-Black cast? In conclusion, let's look back at the original series and some of the best one-liners from the show: