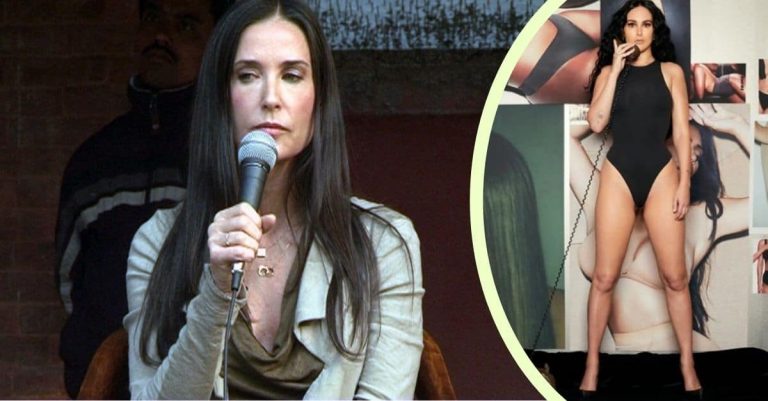 Plenty of sons and daughters with famous parents want to pave their own way. They want to make a name for themselves by their own merit and accomplishments. While respecting those goals, fans can't help but notice familial resemblances wherever they exist. And they certainly exist between Rumer Willis and her mother Demi Moore.
That much becomes quickly evident from the latest picture of Rumer. In it, Rumer wears a bodysuit that compliments her form. Yahoo Entertainment accurately notes other elements that really contribute to the resemblance. Do you see it?
Rumer Willis looks like Demi Moore in her latest project
https://www.instagram.com/p/CEmwMjalmlJ/?utm_source=ig_web_copy_link
Recently, Rumer Willis worked on a project that involved Skims, bodysuits designed by Kim Kardashian. An Instagram photo showed some of the final results. In it, Willis stands wearing a black Skims bodysuit and heels. Around her stand pictures of more Skims models.
RELATED: Michael Douglas Looks Identical To Daughter Carys In Old School Photo
Rumer captioned the picture, "Happy Birthday @skims !!! Thank you to the team and the oh so lovely @kimkardashian for including me. You are a gem my dear." Three days ago thus marks a milestone for Skims.
Blood runs thicker
https://www.instagram.com/p/BmoN1XKgR20/?utm_source=ig_web_copy_link
Yahoo Entertainment points to a few traits that made fans do a double-take wondering if the picture actually showed Moore. For one thing, both Rumer Willis and her room have a vintage look in the picture, aided by the rotary phone, thick hair, and noticeable makeup. These harken back to the early '90s when Demi Moore became such a box office powerhouse.
Rumer Willis has strong Hollywood genes on both sides, being the daughter of Moore and her ex Bruce Willis. As the oldest, she also gets eldest sibling status. Though her career in entertainment started with a few movie credits, she also delved into dancing, going so far as to win season 20 of Dancing with the Stars. Time on Broadway in Chicago also proves her vocal capabilities. Though she is carving a path of her own, it seems history will repeat itself in one way: she, like her parents, will experience admirable success.