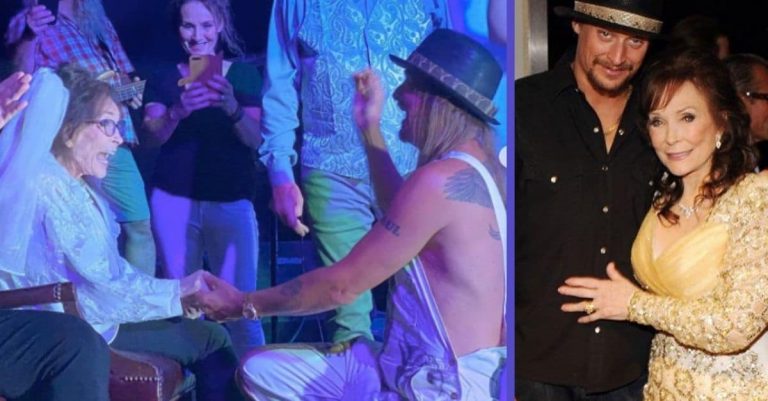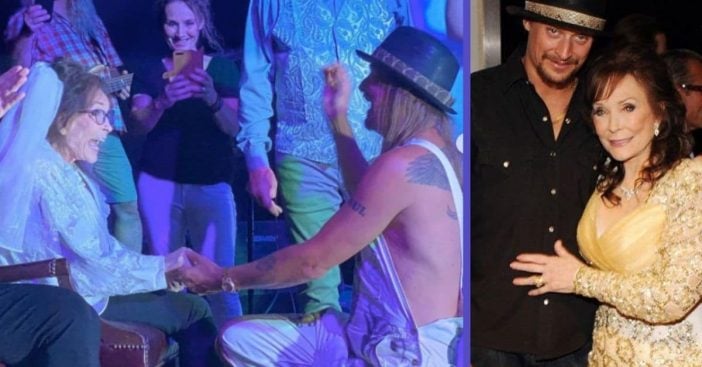 Loretta Lynn managed to convince her fans that she got married to Kid Rock over the weekend. What?! No worries, it's just a joke. But people seriously believed it! She's setting the record straight now. The 88-year-old started a serious frenzy amongst fans as she shared photos of the 49-year-old getting down on one knee.
In the collage of photos, she also appears to be wearing what looks like a white veil on her head. "What a weekend! My Ernie & Crystal renewed their vows this weekend. It was beautiful and everything it should be. Marriage isn't always easy–heck it's not even always pretty, but love holds you together and you push through the bad days to enjoy the good ones," she writes in the caption.
Did Loretta Lynn actually marry Kid Rock?
https://www.instagram.com/p/CEiZivGJRfX/?utm_source=ig_embed
She continues, "I'm so proud of them and wish them years of happiness. Things got crazy then–my boy @kidrock was there and we've always teased about getting ourselves married. Well, the preacher was already there so we had some fun with it. Sorry girls, he's taken now!"
RELATED: Reba McEntire Remembers Being Starstruck When She Met Loretta Lynn
Of course, fans began flooding the comments section with 'congratulations' for Loretta and Kid Rock. She came onto Instagram soon after with more photos, saying, "Well, it didn't last long, y'all but it sure was fun! I guess I better get on here and let y'all know that it was just a joke— @kidrock and I didn't get married over the weekend, but we had a blast."
https://www.instagram.com/p/CEj89WcpxNA/
Loretta's granddaughter Tayla Lynn Finger says that Kid Rock was invited to the event as the officiant. He was about to perform when the family surprised him and Loretta with a preacher. "We all laughed, sang, hugged. It was a moment last night in the midst of the world turning sideways where love and joy were absolutely shared." Pretty solid joke if I do say so myself!