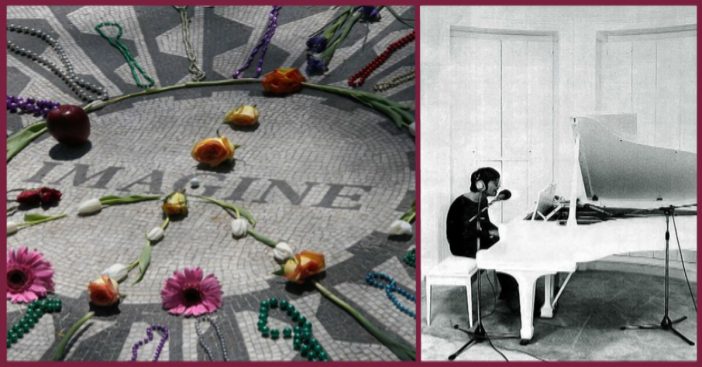 Lennon's "Imagine" was written on a brown Steinway upright piano. In 2000, George Michael paid over $2 million for the piano that Lennon wrote this on, and then returned it to the Beatles museum in Liverpool. John's piano has since been "on tour" to various world locations promoting peace.
Churlish listeners had a problem with the "no possessions" line, finding Lennon hypocritical since he was so well-off. Yoko Ono addressed this in a 1998 interview with Uncut, where she stated regarding her husband's intentions: "He sincerely wished that there would be a time when all of us could feel happy without getting too obsessive about material goods."
This was not released as a single in the UK until 1975, when it hit #6. Shortly after Lennon's death in 1980, it was re-released in the UK and hit #1. It was replaced at #1 by Lennon's "Woman," marking the first time an artist replaced himself on top of the UK charts since The Beatles followed "She Loves You" with "I Want To Hold Your Hand."
This is credited to The Plastic Ono Band, the name Lennon used for some of his recordings after leaving The Beatles. Ringo Starr played drums on this and Klaus Voorman played bass.
(Source)
Video of John Lennon's "Imagine"
Imagine there's no heaven
It's easy if you try
No hell below us
Above us only sky
Imagine all the people living for today
Imagine there's no countries
It isn't hard to do
Nothing to kill or die for
And no religion too
Imagine all the people living life in peace, you
You may say I'm a dreamer
But I'm not the only one
I hope some day you'll join us
And the world will be as one
Imagine no possessions
I wonder if you can
No need for greed or hunger
A brotherhood of man
Imagine all the people sharing all the world, you
You may say I'm a dreamer
But I'm not the only one
I hope some day you'll join us
And the world will be as one