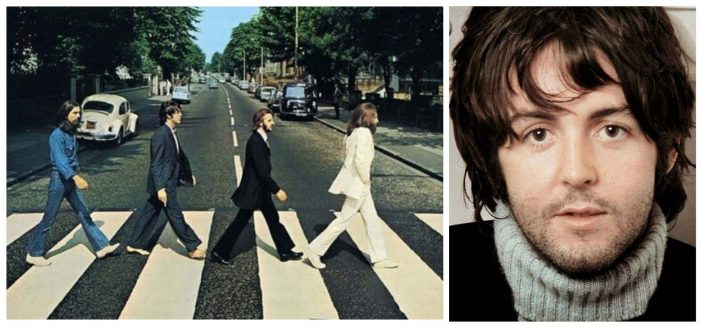 Almost 49 years after The Beatles' Abbey Road album cover was released to the public, Sir Paul McCartney has taken to the exact same spot to recreate the iconic street-crossing. Many fans were littered in the streets behind barriers to watch McCartney make the legendary walk again after all these years.
McCartney was actually visiting Abbey Road Studios to promote the release of his upcoming record Egypt Station with a 'secret' performance. Before actually making his way to the performance, though, he made the stroll along the crosswalk that had Beatles fans screaming with nostalgia.
View this post on Instagram
What was made famous back in 1969 is without a doubt still a popular destination for hardcore Beatles fans. Many fans travel to Abbey Road just to recreate the same photo that can be seen on the album cover from long ago. McCartney was unfortunately not accompanied by any other Beatles members and sported wine colored pants and sandals. Still looking pretty trendy!
View this post on Instagram
While McCartney walked the crosswalk alone, he did bring along some guests for the trip. Accompanying were his daughters, Stella and Mary, and the daughter of Steven Tyler, Liv Tyler! They were seeming to be having tons of fun goofing around with McCartney behind the scenes.
View this post on Instagram
Despite McCartney's official Instagram also posting the walk, his daughter Mary was pretty hyped about it, too! She posted her own video of the walk with the humorous caption, "Why did the Beatle cross the Abbey Road?"
View this post on Instagram
It's no secret that McCartney is revisiting his Beatles roots and appreciating the good memories he has of that era in his life. Just last month, he was on The Late Late Show With James Corden, where he did a carpool karaoke, took Corden to Penny Lane, and his childhood home.
https://t.co/7iwvw6Iyia pic.twitter.com/A8YX2U1Xza

— James Corden (@JKCorden) June 22, 2018
His newest record will be released on September 7th and will be embarking on a North American and European tour called "Freshen Up" only 10 days after its release. He will also be playing some music festivals in the remainder of 2018. You can purchase tickets for his "Freshen Up" tour now on his official website!
Don't forget to preorder McCartney's newest upcoming album Egypt Station here.
View this post on Instagram
Be sure to SHARE this article if you love Paul McCartney and miss The Beatles!