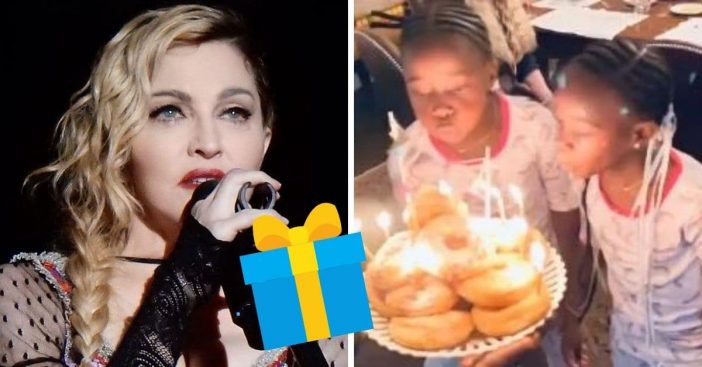 Just weeks after Madonna celebrated her 62nd birthday on vacation, she celebrated her twins' eighth birthday! Madonna shared a rare video of adopted twins Stella and Estere dancing on their birthday. It appears the girls wanted donuts instead of cake for their birthday celebration!
Madonna captioned the video, "Donuts and Lol dolls = JOY! 🎉🎉🎉🍩🍩🍩The Birthday Celebration for Stella and Estere continues!! 🌈💕🌸🌈💕🌸🌈💕 #stella #estere #birthday" The girls wore matching outfits as they danced around with some of their siblings.
Madonna celebrated her twin girls' eight birthday
https://www.instagram.com/p/CEU-TZSB4L6/
Madonna's other children are Lourdes, 23, Rocco, 20, David, 14, and Mercy, 14. Madonna shared more photos and videos of the celebration in her Instagram Story. It looks like the girls got dolls and lightsabers for their birthday.
RELATED: Madonna Celebrates Her 62nd Birthday And Shares Rare Photos Of Her Kids
https://www.instagram.com/p/CETSQlwh3fp/
Before she shared the dancing video, Madonna shared a sweet birthday wish for her girls. She shared some throwback videos of the girls four years ago. She wrote, "4 years ago in 🇲🇼 Malawi!
Happy Birthday Stella and Estere To know you is to Love you ♥️♥️ #Stella #Estere"
They are so cute! Happy birthday, Stella and Estere! It looks like they had a very fun birthday celebration with the entire family.