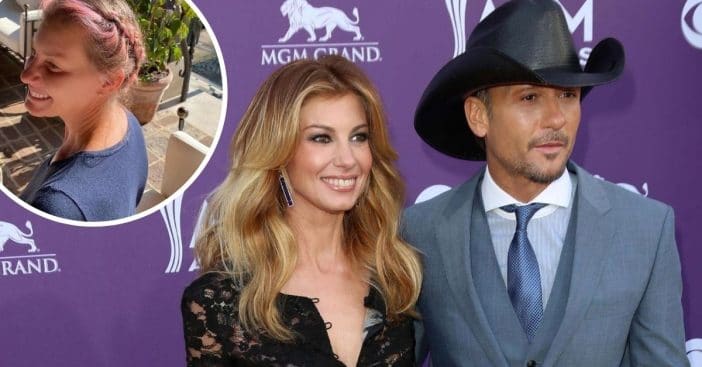 Country singer Tim McGraw recently shared a beautiful candid snap of his wife and fellow singer Faith Hill. In the photo, taken by their daughter Gracie, Faith has light pink streaks in her hair. She isn't wearing makeup and looks stunning! She wears a smile and appears to be sitting on their patio, which looks like the perfect place to relax.
Tim simply captioned the photo, "Dang, I love this girl! 📷: Gracie" Gracie is the couple's 23-year-old daughter. They also share Maggie, 21, and Audrey, 18. Many fans commented on how great Faith looks without makeup and how much they love the pink in her hair.
Faith Hill rocks pink hair and no makeup in new photo
https://www.instagram.com/p/CDpf0aJgmX0/?utm_source=ig_embed
Quarantine is a great time to ditch the makeup and change up your hair! Tim has also spoken out about how he annoys his wife during the quarantine. This is probably the first time in many years that they have spent this much time together at home.
RELATED: Tim McGraw Shares Anniversary Gift To Wife Faith Hill
Tim admitted, "I spent 30 years in hotel rooms going in and out, so I've never even thought about cleaning up, but she's a neat freak, so she likes everything pretty clean. So I always get on her nerves about that."
https://www.instagram.com/p/B3R8o83HtzD/
Even though Tim gets on Faith's nerves a bit with cleaning, they both admit to being homebodies. They said they have enjoyed their time together at home. They like to cook and eat at home, so they do prefer a slower lifestyle.
https://www.instagram.com/p/Bw7VsjUAfPb/
Tim added, "We're always around the house, so we spend a lot of time together anyway. But this has been really good. We enjoy just cuddling up and watching movies, TV series." So sweet! The couple has been together for about 23 years and still seems very much in love.
What do you think of Faith's pink hair?