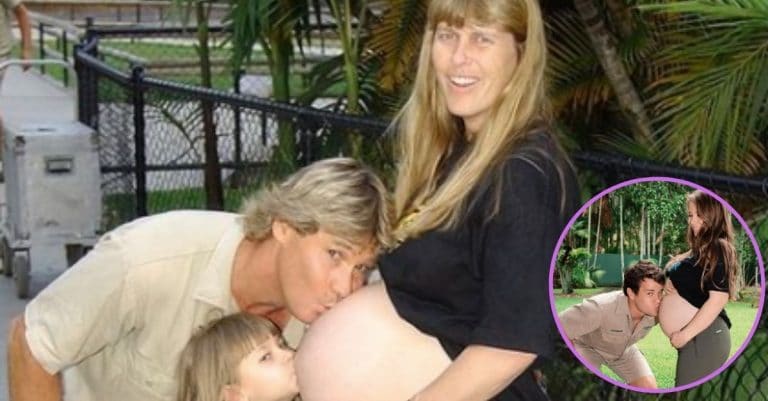 Bindi Irwin and Chandler Powell recreated a sweet moment via a must-see photo… a recreation of Bindi's parents' maternity photo when her mom, Terri, was pregnant with Robert. The original photo shows the late Steve Irwin and little Bindi kissing the belly of pregnant Terri, and Bindi and Chandler do a fantastic job of recreating the heartwarming photo.
"Recreating a very special moment," Bindi captions the post. "Third trimester love." Bindi married longtime love Chandler back in March 2020 via a private ceremony at Australia Zoo.
This recreation of Bindi's parents' maternity photo is a must-see and so sweet!
View this post on Instagram
"We held a small ceremony and I married my best friend. There are no words to describe the amount of love and light in my heart right now," Bindi writes on Instagram at the time. "We wish all of our friends and family could have been there with us, however it's lovely that we will be able to share photos and videos. Right now we're encouraging the world to hold onto hope and love, which will carry us forward during this profound time in history."
RELATED: Bindi Irwin Posts First Baby Bump Photo And Says Baby Is Doing Great
It was shortly after in August 2020 that the pair would announce they were expecting. "Though I'm still in my first trimester, we really want you to be part of our journey from the beginning of this new life chapter," she explains on Instagram at the time. "We couldn't wait to share the news as this beautiful little being has become the most important part of our lives. Your support means the world to us."
View this post on Instagram
The pair called their baby their Baby Wildlife Warrior until they found out the gender, which was a girl. Knowing Bindi is now in her third trimester, we're excited to see what the next couple weeks bring for her and Chandler!