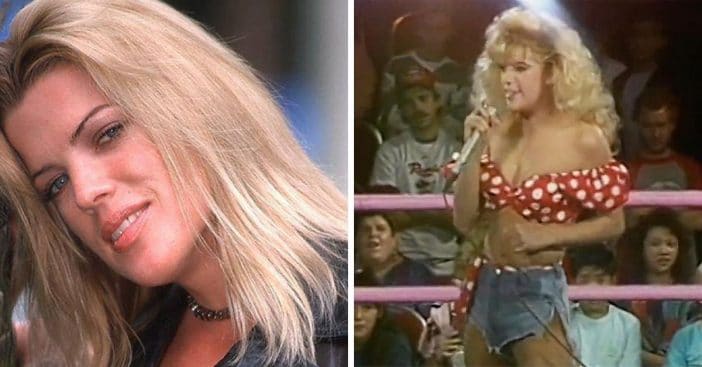 Beckie Mullen, star of 'GLOW,' dies at 55.

She had been battling kidney, colon, and liver cancer.

Mullen was a few days shy of her next birthday. RIP.
Beckie Mullen, who starred in 1980s GLOW and an episode of Married… with Children alongside Pamela Anderson, has died. She was just 55 years old. Her GLOW co-star Little Egypt confirms the news. "We lost one of our #GLOW #GorgeousLadiesofWrestling sisters yesterday. My heart goes out to the family, friends and fans of #BeckieMullen," Little Egypt tweets out.
The cause of death was confirmed to be kidney, colon, and liver cancer. One of her other co-stars, Patricia Summerland, started a fundraiser on Facebook to help Mullen's mother pay for her daughter's cremation. "[Mullen] was battling demons and one big demon was cancer," the Facebook page says.
Remembering Beckie Mullen
Mullen had previously posted a GoFundMe on Facebook back in March 2020 to help pay for her cancer treatment. The page is no longer active. Many remember Mullen on GLOW as Sally the Farmer's Daughter. The original GLOW Twitter account also posted a little something in tribute to their former star. "RIP to a GLOW Original! It is with a sad heart that we share the passing of Beckie Mullen (Sally The Farmer's Daughter) to our GLOW family. She was a spark of energy and will be missed much by her friends and fans," the organization writes.
RELATED: Alex Trebek Gives Fans A Reassuring Update On His Cancer Treatments
Following her career in wrestling, she was able to land several more gigs in Hollywood. She appeared on shows like Married… with Children, MadTV, Renegade, and Pacific Blue. Mullen is also in the 1991 music video for Van Halen's "Poundcake."
Mullen would have celebrated her 56th birthday on July 30th, 2020. May she rest in peace.