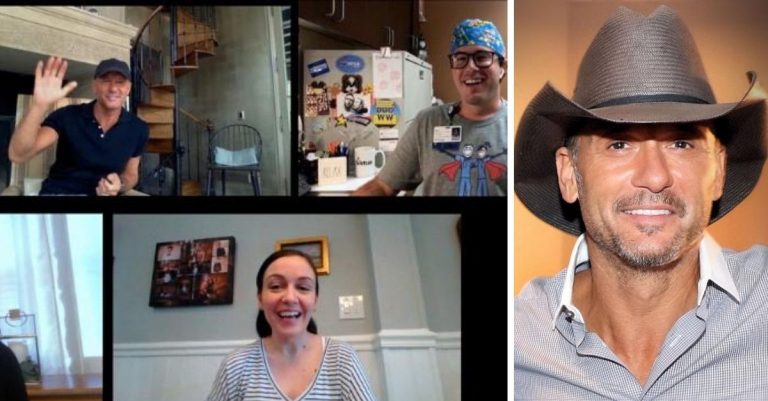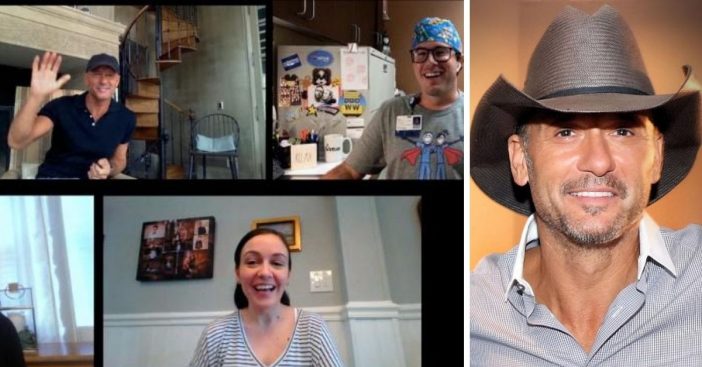 Country singer Tim McGraw recently surprised a group of nurses working tirelessly during the coronavirus pandemic. He partnered with Spotify for their streaming series called "The Drop In." The nurses thought they were just joining a Zoom work call. Instead, they were shocked when Tim McGraw popped up on the screen!
He joked, "I know some of you guys are off and wondering why you're having to call in on a day off. Hopefully, I'm not messing it up too much." Then he thanked the group for their important work. Tim said, "I just wanted to say thank you and what great work you guys are doing."
Tim McGraw surprised a group of nurses to thank them for their work
View this post on Instagram
He continued, "Most importantly, for me, it's an inspiration to my daughters. As they go out into the world, they can see what you guys do. And that's one of the bright lights, I think, through all of this, being able to see how much people care, how hard people work, how selfless people can be — especially you guys, our front-line workers who put their lives on the line and take care of people. And you give our kids something to emulate as they go forward in life."
RELATED: Tim McGraw Debuts Music Video Honoring Moms Everywhere
Tim added, "I see the hours that you work, we see it every day and hear about it every day. And I hope that you guys feel lifted up." Then he sang his new single "I Called Mama" for the group of nurses.
View this post on Instagram
In addition, Tim has shared some exciting news with fans. Next month, he is releasing a new solo album called "Here on Earth." He will also share a new live stream event where he will play music from the new album as well as nostalgic hits.
You can watch the video on Spotify here!