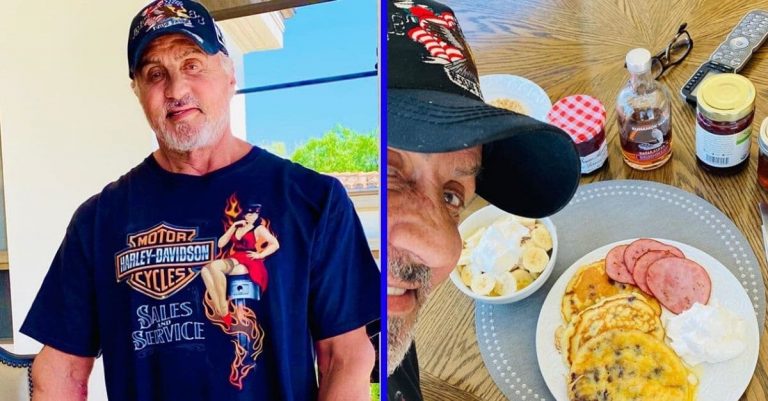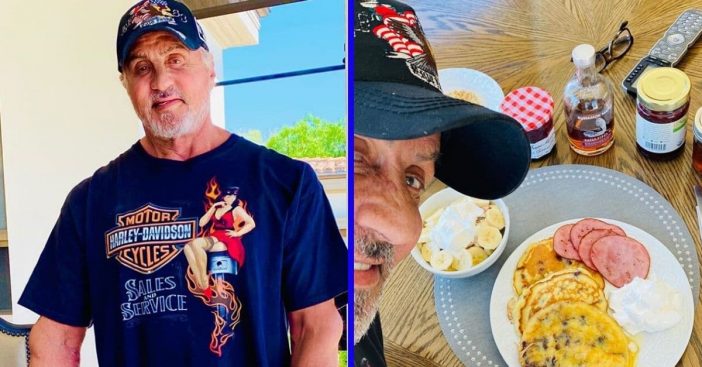 On July 6, 2020, Sylvester Stallone turned 74 years old! On his birthday, he shared a few photos with fans of his special day. It appears that his daughters made him a nice birthday breakfast. Sylvester smiles next to a bowl of bananas with whipped cream on top and a plate of pancakes and ham. He is surrounded by delicious syrups and jellies.
Sylvester also shared a photo of himself wearing a Harley-Davidson shirt. He captioned the photos, "A great birthday breakfast made by my wonderful daughters! I'm gonna eat until I explode, [then] go to the gym and unload!"
Sylvester Stallone's daughters made him a delicious-looking birthday breakfast
https://www.instagram.com/p/CCT0V63pzmU/
Sylvester has three daughters, Sistine, Sophia Rose, and Scarlet Rose. He shares all three of his girls with wife Jennifer Flavin. He also has two sons, Sage and Seargeoh with ex-wife Sasha Czack. Sadly, his son Sage died in 2012.
RELATED: Sylvester Stallone's Daughter, Sistine, Stuns In Bikini Photo
https://www.instagram.com/p/CCRT_lTlgMN/
Sistine recently shared a photo of herself with her mom and sisters. They all look so much alike! She also shared photos and videos to celebrate her father's birthday. In addition, Jennifer shared some throwback photos and more recent snaps to celebrate her longtime husband's birthday. She wrote, "Happy birthday to the love of my life! My forever best friend❤️"
https://www.instagram.com/p/CCUoBj8gkxB/
Happy birthday, Sylvester! It looks like you had an amazing birthday with your family.
In conclusion, watch Sylvester's transformation over the years: