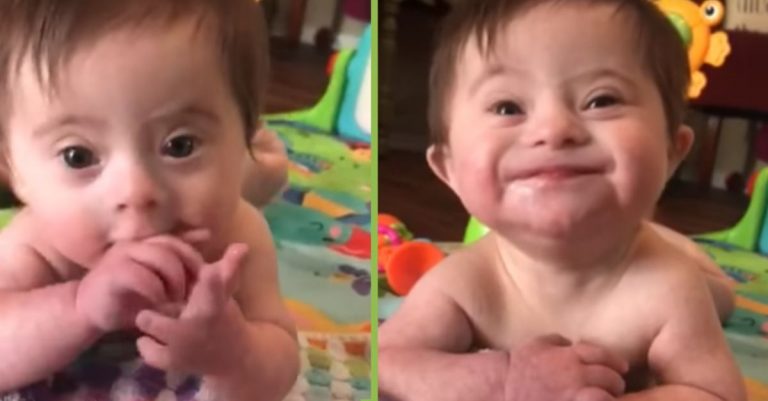 An 8-month-old baby girl who goes by the name of 'Baby H' online is capturing the hearts of people across the Internet. A video of her was shared by the National Down Syndrome Adoption Network with the caption "New smiles are the best smiles!" The video has been shared 400,000 times, and has more than 200,000 reactions and 28k comments.
People could not get over the adorable smile from Baby H, who has Down Syndrome. In the video, Baby H is enjoying some tummy time when mom asks, "How's your day going?" She responds by flashing a beautiful and adorable smile. Mom responds, "Aww, I love your new smile! That is the cutest."
Baby H is stealing people's hearts with her new-found skill of smiling
Every time Baby H's adoptive mom asks for her to smile again, she gladly does. She seems to enjoy her new-found skill of smiling and earning some praise in return! Every time Baby H earns praise from her mama, she excitedly wiggles on her mat.
RELATED: Kids With Down Syndrome Dress Up As Their Favorite Disney Characters
The National Down Syndrome Adoption Network shows off other similar photos and videos. Many of these adoptive parents have found their little ones through the adoption network and can't get enough of seeing other little ones. "Omg so precious! That smile though," one person comments on Baby H's video. Another says, "My heart melts everytime I watch." To see the full video, and get your heart stolen, too, check it out below!
https://www.facebook.com/dsadoption/videos/1570572669740255/