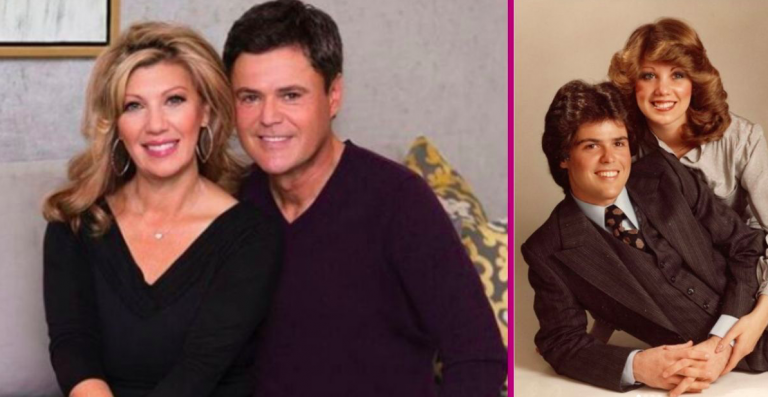 Donny Osmond and his wife, Debbie, just marked 42 years of marriage and he made sure to commemorate the day with a special tribute. "Our anniversary celebration tomorrow will look a little different than planned this year, but the greatest silver lining of a stay-at-home order is the chance to spend quality time at home with my sweetheart. I love Debbie more with every passing day," he writes.
He continues, "I'm in the process of writing a song about her right now. In my opinion, it's turning out to be the very song that I've been missing to complete my new album. It's really beautiful, just like her." Aww, so sweet! "Happy 42nd #Anniversary to the woman who inspires me daily. ❤️" he concludes the post.
Donny Osmond has a sweet message for his wife, Debbie
https://www.instagram.com/p/B_5UO1NH6oL/
Fans were quick to comment on the sweet tribute post. "Happy Anniversary to you crazy kids! I remember your wedding day 42 years ago.. broke my heart at first.. but I got over it! Didn't take long at all to love Debbie because she made you complete.. ❤️❤️" someone shares. Another fan writes, "Happy anniversary to you both 💞 … you were my first teenage crush how are you even old enough to be married 42 years lol 🏴󠁧󠁢󠁳󠁣󠁴󠁿"
RELATED: Watch Donny Osmond And Grandkids Sing A Classic Disney Song Together
A loving Mother's Day message, too
https://www.instagram.com/p/B9CXpKDnkkH/
In light of Mother's Day passing through, he shared another tribute piece to his wife, who is also mom to their five children. "This Mother's Day, I celebrate each one of the women in my life in the wonderful ways they mother every day. This includes all of the ways Debbie, Melisa, Jessi, Shelby, Alta and Summer create, lift, love, nurture and improve the people and environments around them," he writes in tribute to his wife on Mother's Day. The other women he mentions in his post are his sons' special ladies.
https://www.instagram.com/p/CABGpfuHFXk/
Donny continues, "They have truly developed 'mother hearts' that bless my life, the lives of my family members, and the lives of all those they come in contact with," referencing those six women. "Their capacity to uplift and create beauty are divinely given gifts unique to mothers. To mother figures everywhere, we honor, cherish, and celebrate you."
We're glad to hear that the Osmonds had a lovely wedding anniversary and Mother's Day!