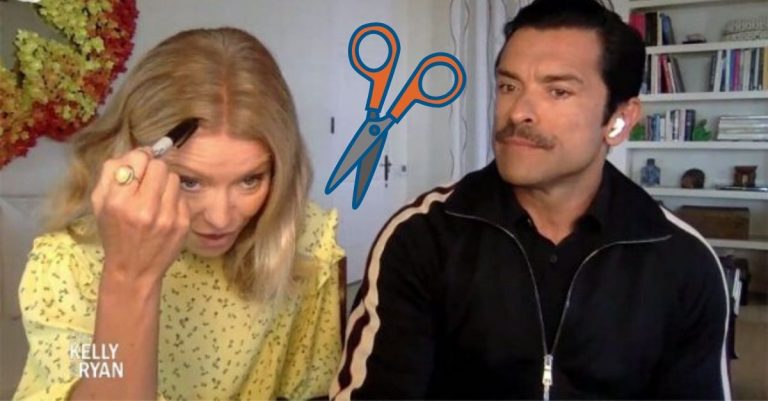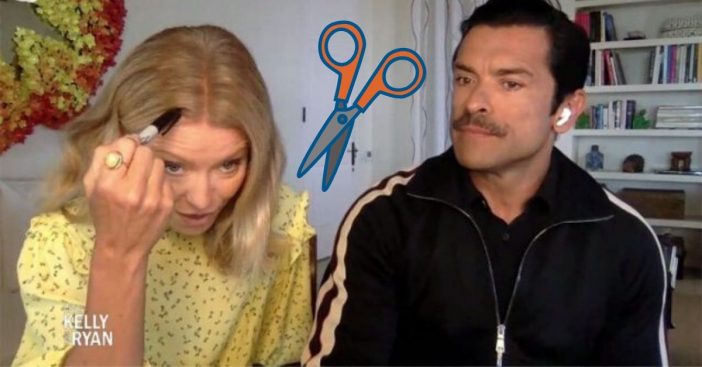 During a recent at-home episode of Live with Kelly and Ryan, Kelly Ripa revealed that times have become tough, and she resorted to cutting her own hair during the coronavirus lockdown. "I'm not going to lie, I cut my own hair," she reveals, and husband Mark Consuelos was in on it, too!
"I used kitchen scissors, we obviously don't have haircutting scissors. I cut my own hair. I didn't cut bangs, because that's…" Consuelos then interjects, "I would have stopped you." However, her hair looks good and she didn't resort to some whacky hairstyle, so A for effort!
Kelly Ripa takes matters into her own hands with kitchen scissors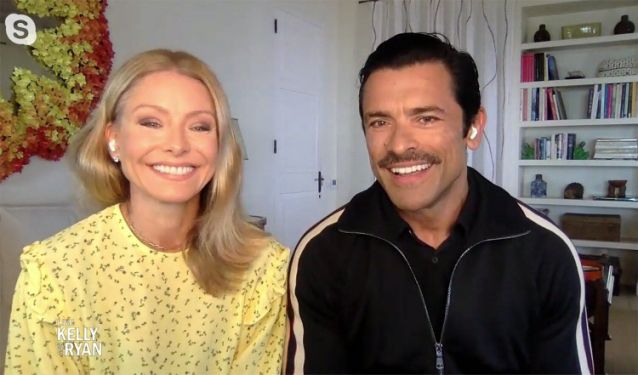 "I didn't say anything, but I was ready to jump in case you went across the bang," Consuelos reveals. The couple also discussed Consuelos's new facial hair, which his teenage kids apparently aren't fans of. "They say I look like an aging porn star," he jokes.
RELATED: Kelly Ripa Shows Off Growing Grey Roots On Social Media
"You know my dad had a mustache. And he still does. Growing up, I think he shaved it once and my mom made him grow it back," he shares on the show. "Because he had a lot of space between his nose and his top lip."
Gaining grey roots in the process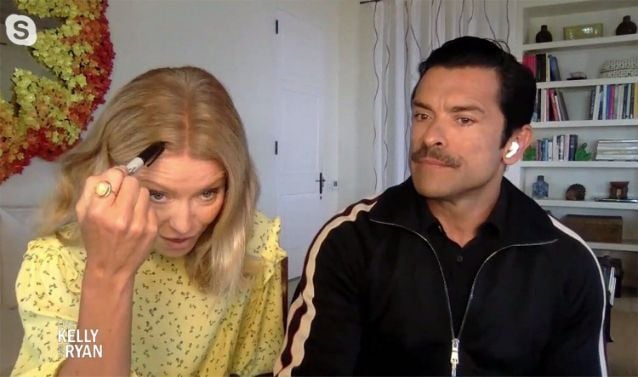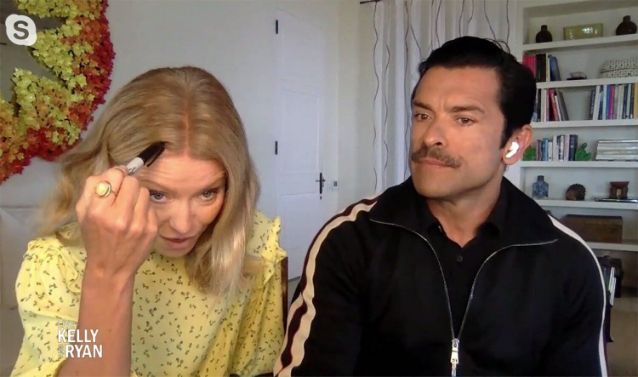 Aside from cutting her own hair, Kelly has also been keeping a watchful eye of her roots. A short while ago, she shared a 'root watch' to her Instagram, showing the grey roots atop her head. She noted that her husband didn't have a single grey hair on his head.
"Anybody that follows me on Instagram knows that [my hair] is sprayed," she says in reference to her 'root watch' Instagram photos. "And you can kind of see it forcing. It wants to show you. It wants you to see the reality. There, I did it." That's when Consuelos replies, "Since I met you, you told me that you're gray. And I gotta tell you, I see you in the morning and I think it looks beautiful. I like it. I'm looking forward to when it's just completely gray." Kelly jokes, "Which is probably by the end of the week."
Take a look at another segment from that episode, where a doctor offers helpful handwashing advice: