While Graceland is closed due to the coronavirus pandemic, Graceland chef Daniel Clark has graced us with a new video. Daniel is Graceland's Food and Beverage Director and he is teaching fans how to make Elvis Presley's favorite sandwich. Many know the peanut butter and banana combination as the Elvis sandwich.
While it seems like a very simple sandwich recipe, Daniel had a lot of great tips for making a great one. First, he suggested that if you are making a bunch of sandwiches, you can microwave the peanut butter so it spreads easily and quickly.
Graceland shared Elvis' famous sandwich recipe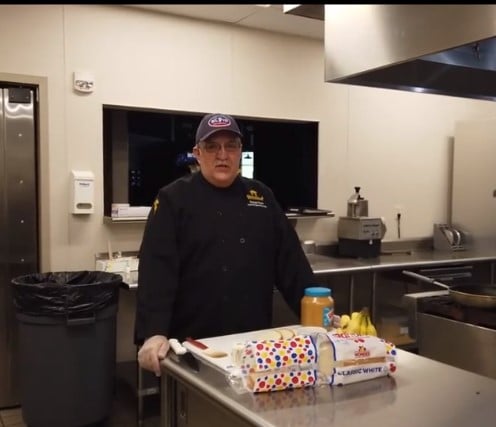 After you've spread peanut butter on both sides of white bread, add chopped or mashed bananas. Then it is time to grill! He suggests using butter or bacon grease to the pan for grilling. You can also add bacon to the sandwich if you'd like.
RELATED: Elvis Presley's Graceland Is Currently Closed During Coronavirus Pandemic
Then, he grills both sides until it is golden brown and ooey-gooey. Someone commented on the video that a relative of Elvis used to mash the bananas and fry them in butter before adding them to the sandwich. Now I'm hungry!
Graceland is posting other videos while closed, including a look inside some of the most iconic rooms in the home. The home is also covered in red, white, and blue lights. This is to show solidarity and Elvis' patriotism during the coronavirus pandemic.
Watch the video of chef Daniel making the recipe below:
View this post on Instagram