What would you do if your dog swallowed your engagement ring? Not sure? Well, one woman in South Africa just had to deal with said situation after her dog swallowed hers! The Valley Farm Animal Hospital recently cared for a pup named Pepper after the incident occurred. They posted about it on their official Facebook page.
"My name is Pepper. Do I look a little nauseous? That's because the vet has just given me something to make me vomit! Not because the vet is a meanie but because I ate my Mom's engagement ring!!! Don't ask! It seemed like a good idea at the time!!" they write. "Anyway not long after this the muti did it's stuff and up came Mom's ring As good as new. Or I'd say even better as she'll always have our story to tell."
Dog swallows engagement ring… the Internet reacts
https://www.facebook.com/vfah.info/posts/2787280271331788
It looks like whatever the veterinarian gave Pepper, the ring was able to be retrieved and came out just fine! Many people have been commenting on the post and sharing their thoughts. "This made my day. Pure puppy and a lovely blink object. Shame glad you got your ring back. Puppy need a steak for all the drama😂😂😂😂😂" someone writes.
RELATED: Coors Light To Cover $100 Worth Of Dog Adoption Fees Across The Country
Another person shares a story of their own dog dilemma. "Make sure you don't leave your coffee unattended. My dog Pepe stole mine and all of a sudden my house was a race track but I love when my boy gets up to no good, I can't stop laughing."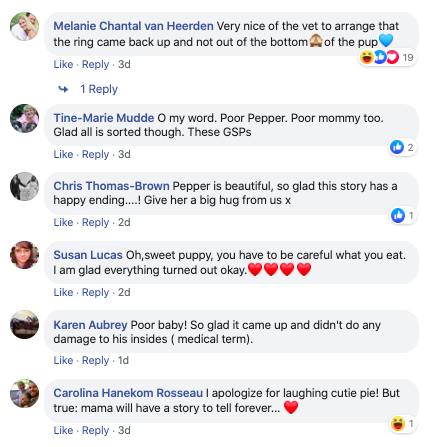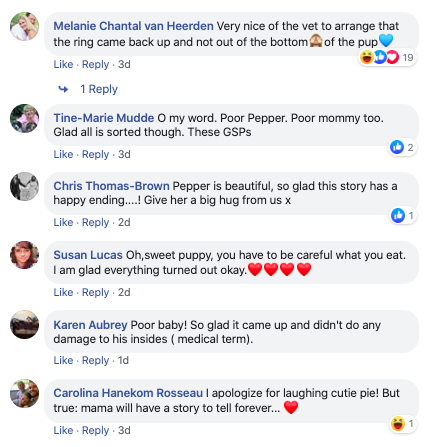 At least the engagement ring is back and the puppy is likely feeling much better now, as is the owner! Do you have any interesting stories about a lost engagement/wedding ring?
RELATED: Man Loses Sapphire Engagement Ring 'Minutes' Before Proposing