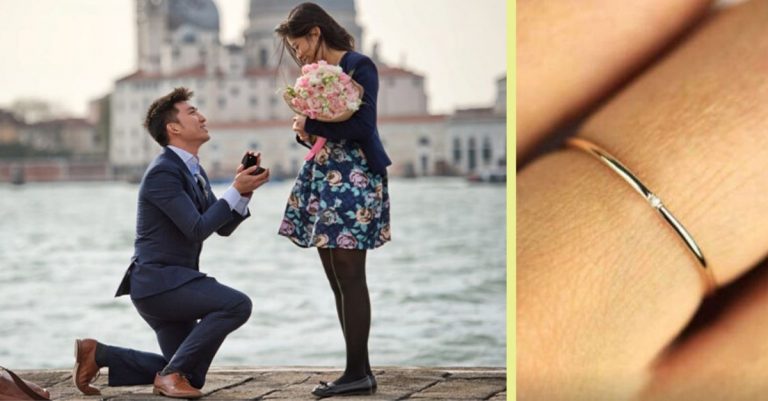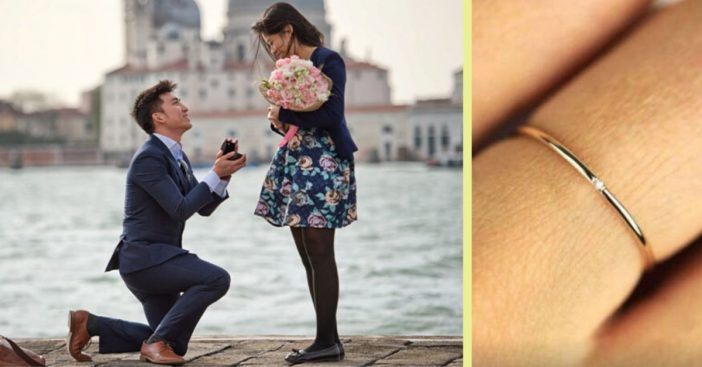 At DYR, we've seen a lot of tiny engagement rings, but this one might just take the cake. One bride is so excited to share the engagement ring she receives from her partner, even if it isn't necessarily one that fits the norm. She shares a photo of it to a Facebook wedding group and is totally unprepared for the backlash she receives.
Many women were quick to shame the bride for her ring, which is a very thin gold band featuring a single diamond in the center. Lots of the women in the Facebook group even compared the engagement ring to a keyring. Her original post says, "My bf and I ordered my ring online and I am in LOVE with it!" It's understandable that the bride-to-be was taken back a bit by the awful comments.
Women in Facebook group mock bride-to-be's tiny engagement ring
The ring is from  Los Angeles-based fine jewelry company JSV Concepts. They have an entire Etsy store online that in dedication to minimalist rings such as this one. The Facebook post from the bride-to-be has garnered hundreds of comments since posting. Other women said the ring looked like tin foil, some say it looks like a paper clip. Others even said that the bride shouldn't bother wearing it at all.
RELATED: Ten Engagement Rings Worn By The British Royal Family
"So take that keyring off your finger and show us the ring you ordered online," someone comments. Another person cruelly says, "I have assembled my colleagues of world class physicists and astronomers, we are building new instrumentation so we can see your f****** ring,"
What do you guys think of these small, minimalist rings? Definitely super cute and unique/unconventional, but not for everyone! These rings are available for purchase on the Etsy store, JSV Concepts.
RELATED: More And More Brides Prefer Smaller Engagement Rings