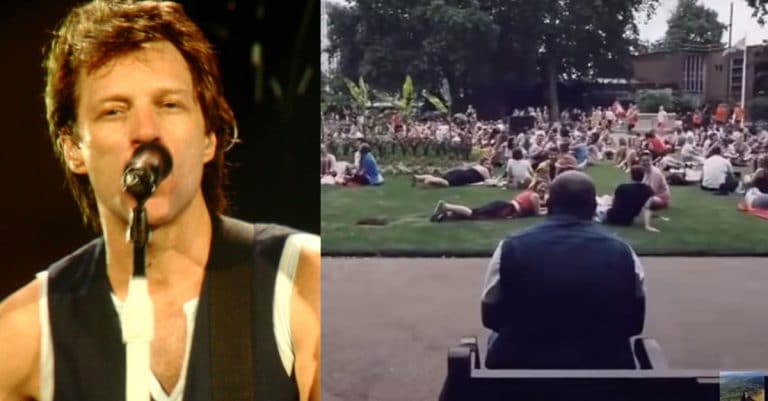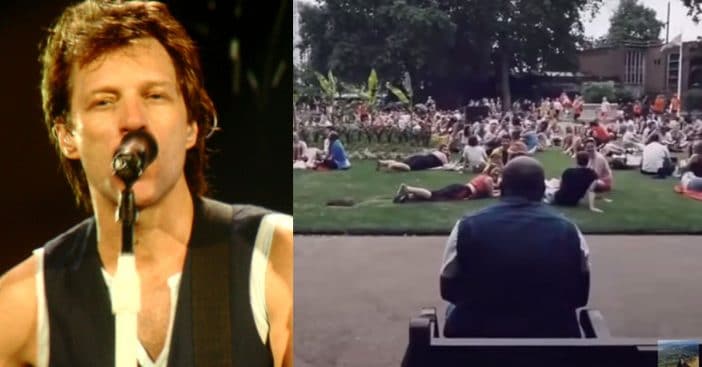 Music is a universal language. Though people can have different tastes, a good rhythm gets people nodding along. When heartfelt sentiments ring out, everyone can relate to it. We can witness the power of music particularly well in a new video spreading throughout Twitter. It features a man sitting by himself on a park bench as other visitors go about their day. He begins singing Bon Jovi's song "Livin' on a Prayer."
At first, he's the only one. But soon, the entire park is joining their voices with his. The resulting sound is the sweetest tune out there: togetherness. Both onlookers at the park and viewers online found themselves touched by this performance. Both the event itself and everyone's reactions are the perfect ingredients for a truly heartwarming balm to a stressful day.
The lonely gentleman started as the only one singing "Livin' on a Prayer"
A man was sitting alone, on a bench in a park, singing Bon Jovi's Living on a Prayer by himself.

By the end, the entire park joined along to sing with him.

(🎥@Goodable) pic.twitter.com/sIqXHuFO2k

— Muhammad Lila (@MuhammadLila) January 30, 2020
One man launched a video that currently has 3.3 million views on Twitter. In the video, we don't see his face. Instead, his back is turned to the camera, focused instead ahead on those lounging and strolling by. In terms of composition, this really emphasizes the power of his voice in getting everyone else singing.
RELATED: Bon Jovi Donates $500,000 Towards A Living Facility For Homeless Veterans
The lyrics that start and end this bout of singing caught on camera are particularly poignant. The excerpt delivers the heart of the song, which carries a message of endurance and unity. A glance around the park shows everyone enthused by this spontaneous singing and pleased by the message the lyrics send.
Viewers voice their reactions online


Though not present in that patch of grass, many viewers felt moved by the event. They have expressed their approval at the gesture and even admitted to feeling a renewed sense of hope that love shall prevail.
Everyone in that immediate area joined in to sing. People of all sorts of different backgrounds lent their voices to create one large, unified chorus. What is most remarkable about this moment is how universally appealing it is. Jon Bon Jovi's song "Livin' on a Prayer" tells the story of working-class couple Tommy and Gina. In particular, Bon Jovi specified, "It deals with the way that two kids – Tommy and Gina – face life's struggles." He later added, "Tommy and Gina aren't two specific people; they represent a lifestyle." During what would have been a typical day at the park, a lot of people connected through Tommy and Gina's story.
RELATED: Someone Created An Adorable Video Of The Peanuts Gang Singing "Don't Stop Believin'"