Jen Phanomrat and her fiancé Leo Samanamud were publicly shamed on social media when Jen posted a picture of her engagement ring. When Jen Phanomrat posted a photo sporting a super tiny engagement ring, it had her fans sending congratulations, but Internet trolls saying hateful things.
Jen Phanomrat and Leo Samanamud host a popular food blog channel on Youtube called Just Eat Life. With over 80,000 subscribers, the two were floored when they got mixed reactions.
https://www.instagram.com/p/BjrwhsljZbE/?taken-by=jeneatslife
In addition to many people mocking the size of the ring, they were also commenting on the fit of the ring. One comment read, "9 years. Coulda asked your ring size and maybe spent more than 100.00 on it." Many fans of the couple fought back against those comments.
https://www.instagram.com/p/BcIPqsMDSJI/?taken-by=jeneatslife
Another commenter defended the couple and said, "That's a beautiful ring! Jealous losers always hate when they see someone who's happy. Congratulations."
Jen said that she was saddened to see the hateful comments, especially because a lot of those comments came from other women.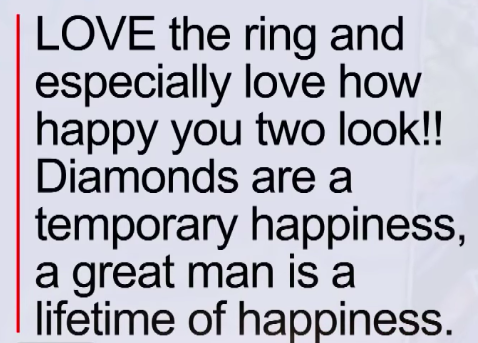 Furthermore, Jen stated that the ring she received was exactly what she would've picked for herself. She was disappointed to see so many women leaving horrible, degrading comments instead of being as excited as she was. "I don't usually wear any jewelry, but when I do, it's simple and minimal," she said.
https://www.instagram.com/p/BfM9o2Dh_U6/?taken-by=jeneatslife
After deleting a ton of hateful comments to have them out of sight and out of mind, Jen discovered that the engagement ring photo had been made an Internet meme. The person who made it posted the photo on Instagram themselves with the caption: "Ladies, would you accept the ring and say yes?"
https://www.instagram.com/p/BdLTefrFs38/?taken-by=leoeatslife
Despite the hatred and mockery, the supportive comments outweighed the bad for the happy couple. Since then, Jen has disabled comments on her Instagram account — she doesn't need that kind of negativity in her life.
https://www.instagram.com/p/BZD_i_KjA34/?taken-by=jeneatslife
We absolutely love Jen and Leo for staying strong together! Do you? Be sure to share this article with a friend!