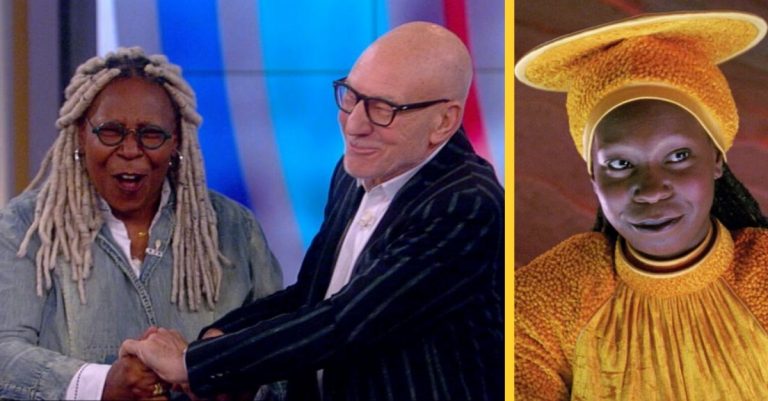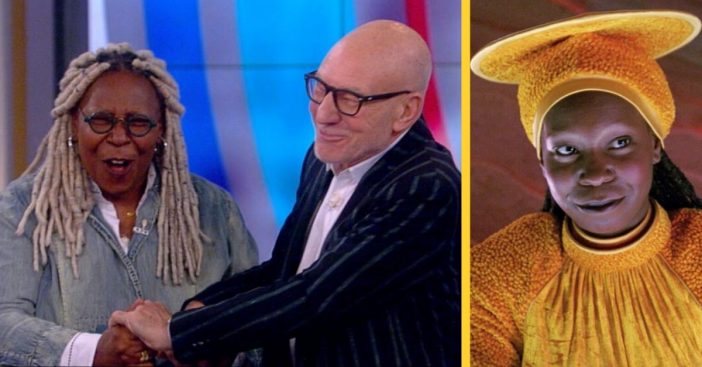 Patrick Stewart makes an appearance on 'The View' to ask Whoopi Goldberg to reprise her role on the new TV series 'Star Trek: Picard.'

She gladly accepts ask they reminisce about the original series.

Viewers may expect to see her on 'Star Trek: Picard' season two!
Actor Patrick Stewart recently made an appearance on The View and asked Whoopi Goldberg a surprising question. She previously played the El-Aurian bar hostess for 28 episodes of Star Trek: The Next Generation between the years 1988 and 1993. Well, Stewart asked Goldberg to return for his current show Star Trek: Picard in season two!
"I'm here with a formal invitation, and it's for you, Whoopi," Stewart begins. "Alex Kurtzman, who is the senior executive producer of Star Trek: Picard, and all his colleagues, of which I am one, want to invite you into the second season." Goldberg absolutely loses her mind! She got up and pulled Stewart in for a tight embrace. The whole studio audience gives a round of applause for the happy moment!
Patrick Stewart asks Whoopi Goldberg to be on 'Star Trek: Picard'
.@SirPatStew officially invites @WhoopiGoldberg to join season two of #StarTrekPicard: "It was wonderful having you, and we cannot wait to have you with us again one more time." https://t.co/f8u2wbJuik #StarTrek pic.twitter.com/mxOtyJxF63

— The View (@TheView) January 22, 2020
"I've said this on the show before, but Star Trek was one of the great experiences, from the beginning to the end," Goldberg continues on the show's segment. She's obviously getting choked up from all the emotion and excitement. "I had the best, best, best time ever."
RELATED: Patrick Stewart Announces He Will Star In New 'Star Trek' TV Series
Stewart adds to that, saying that "it was wonderful" to work with Goldberg on the original series. He also adds that he "can't wait to have you with us again one more time." Goldberg did say "Yes!" as the audience was clapping, so guess that's her final answer! Looks like we can expect to see Goldberg back on the Star Trek series in the near future.
Revisiting Stewart's original character with a whole new audience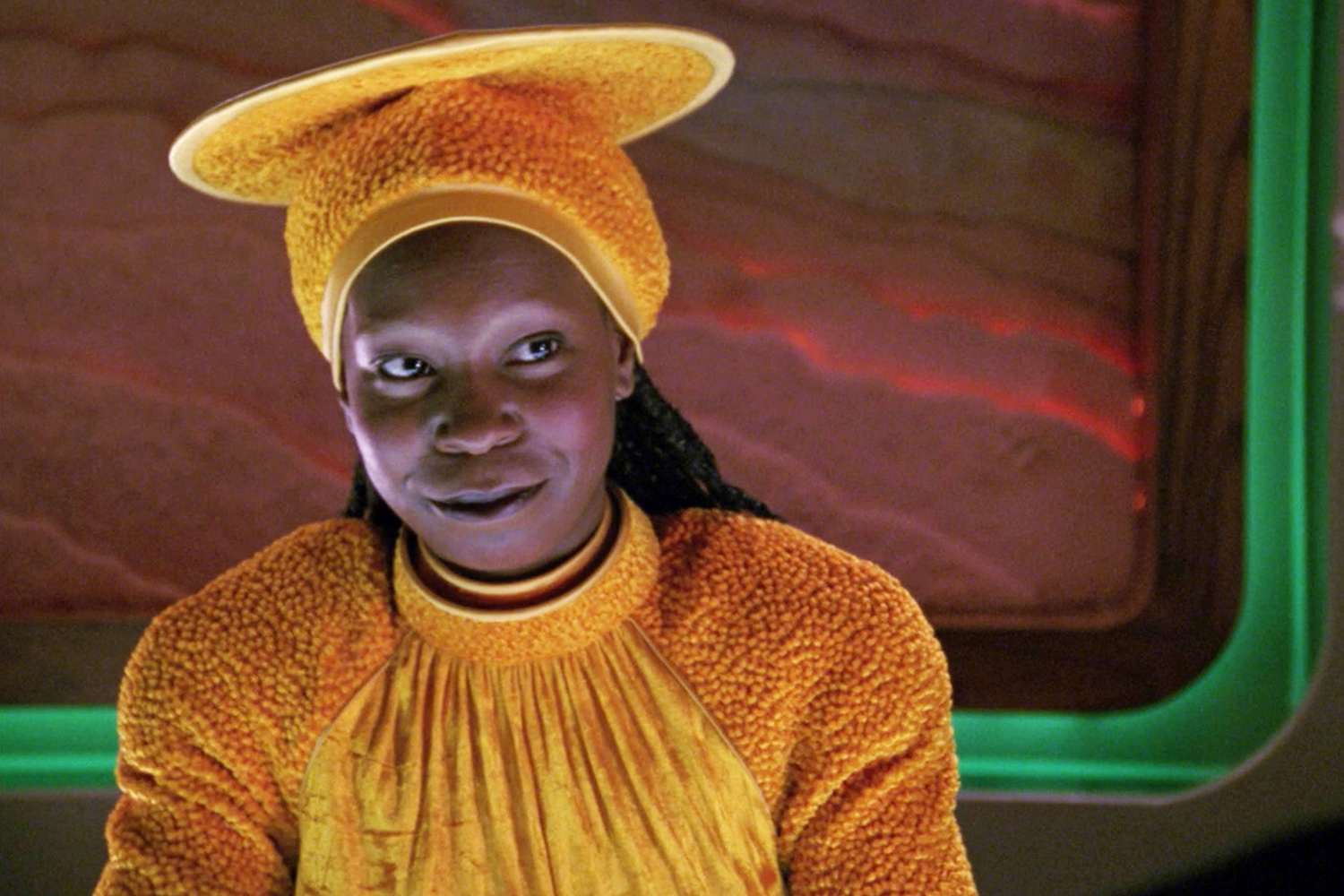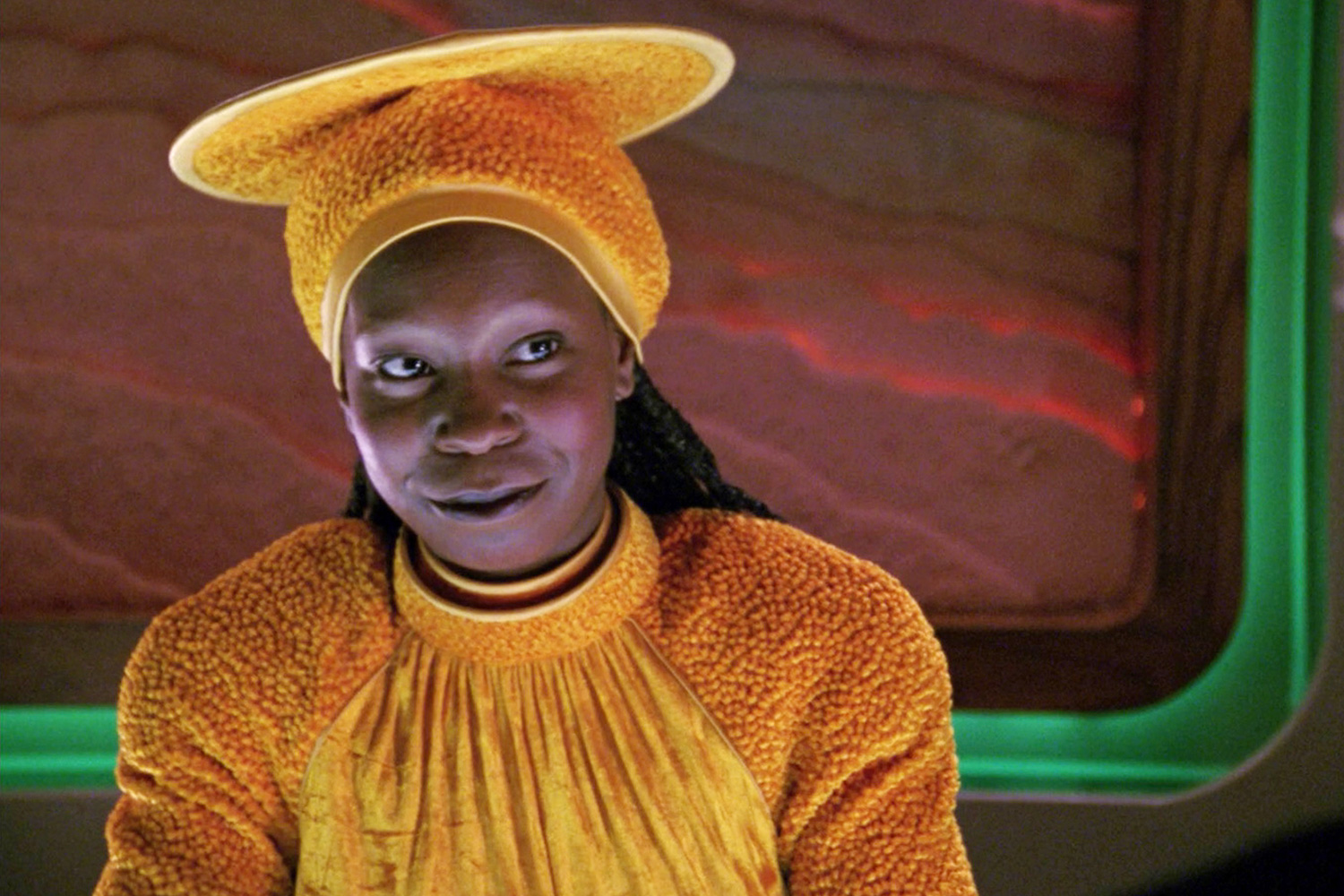 Stewart also talks about his character for the Star Trek series and revisiting it for more contemporary audiences. "It's easy…. Picard has aged 18 years, fictionally, and Patrick Stewart has aged 18 years actually. And I don't have to work at it because it's just me, it's who I am now!" he jokes.
"We have such a team of writers on this show, it's astonishing, and I wanted to show that Picard's world had changed because Patrick's world has certainly changed, and we are no longer now living in the same kind of society we lived in 18 years ago."
Will Goldberg need to modify her appearance in any way for her return?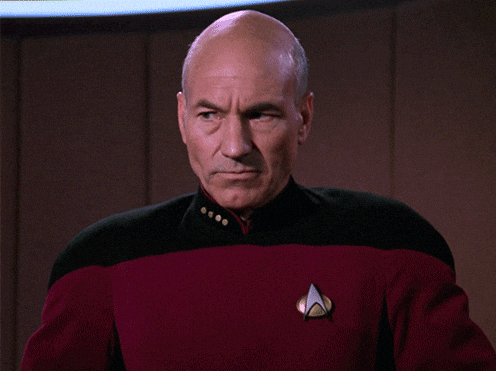 Goldberg's co-hosts followed up with the amazing invitation by asking if Goldberg would have to dye her hair or anything to reprise her role. Stewart confirms that she doesn't need to do anything of the sort. "She's Guinan, and who knows what Guinan's history really is," Stewart says. "That could be one of the excitements down the road!"
Are you excited to see Whoopi Goldberg reprise her role in Star Trek: Picard? Check out the trailer for the series below!